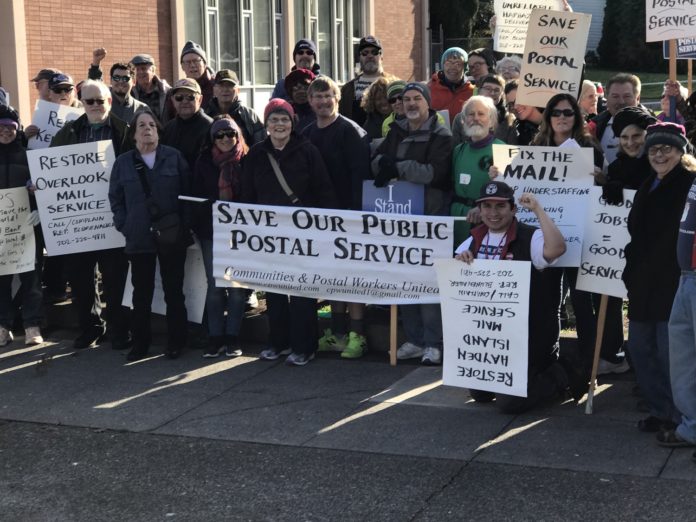 Immediate Release, Nov. 30, 2019
Contact:
Jamie Partridge (Communities and Postal Workers United) 503-752-5112
Willie Groshell (Oregon State Association of Letter Carriers, president) 503-560-4685
Peter Parks (97217-area customer) 503-896-0508
Postal protest rally draws North Portland neighbors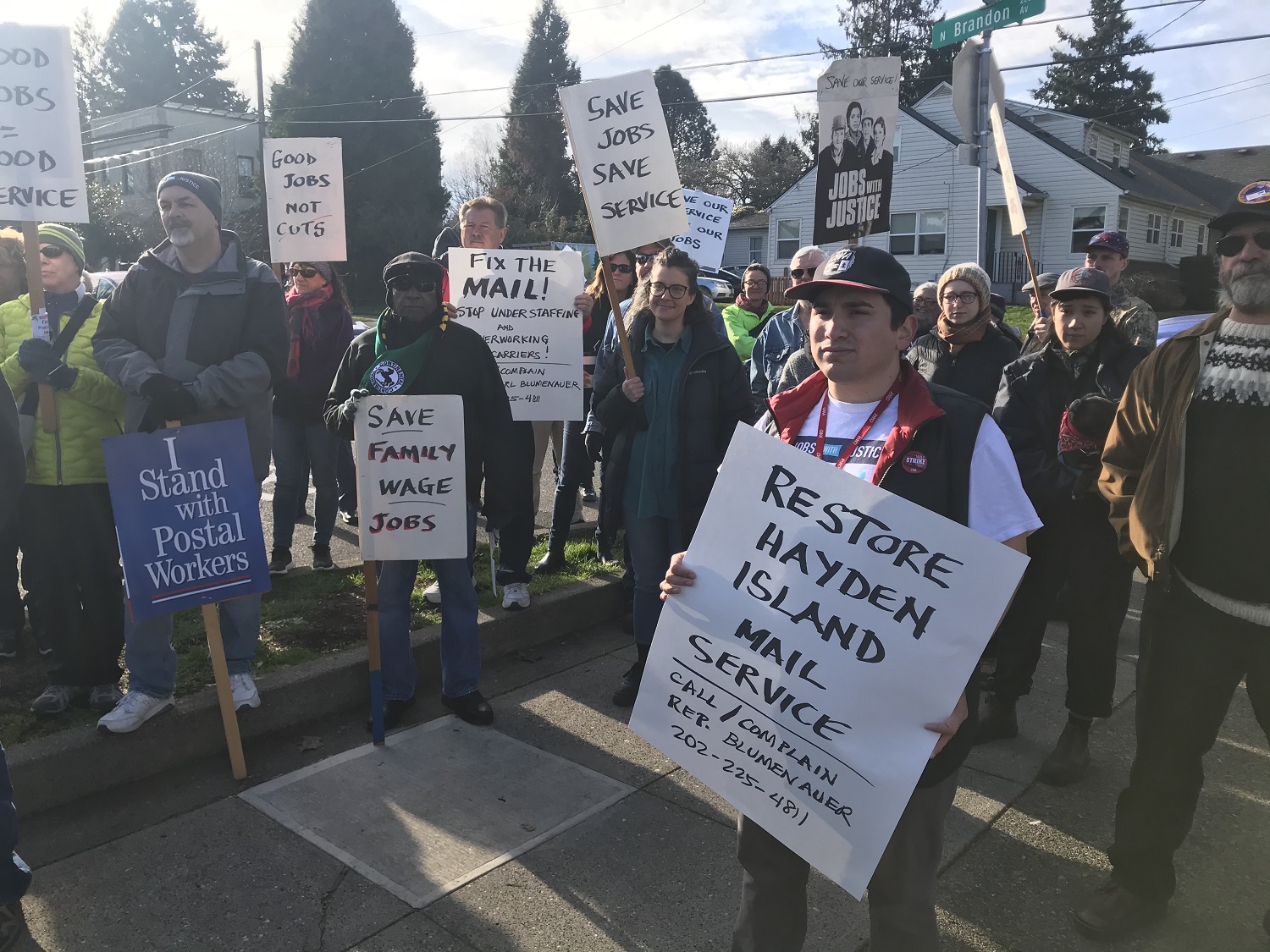 Close to fifty residents of North Portland's 97217 zip code area rallied outside the Kenton Post Office today to protest their erratic, unreliable and haphazard mail delivery. Mary Beverage, president of Arbor Lodge Neighborhood Association, urged her neighbors to complain to Congressman Earl Blumenauer, who has agreed to collect their mail stories and deliver them directly to the highest decision makers in the US Postal Service.
Since late September, North Portland's mail delivery has been a mess. Mail is arriving days late, in the dark, to the wrong address, and with constantly changing letter carriers.
A "PILOT" project, called "Consolidated Casing", has been forced on residents and businesses in the 97217 zip code. The US Postal Service leadership in Washington, DC is trying to speed up mail carriers, eliminate the number of mail routes and break-up (deskill) their job into two – the "sorters" and the "street carriers".
"None of this is the fault of anybody that is working here in Portland, from managers to clerks to letter carriers", said Willie Groshell, Oregon president of the letter carriers union (OSALC). "They are all trying their best to make this experiment work and they have no choice or say in how this whole process is being done to them and their customers. The national postal service should have notified the customers in the 97217 zip code that they were to be used as a test site so that this experiment wouldn't have caught everyone so off guard.
"Congressman Blumenauer wants customer stories and statements to ensure that he can keep USPS leadership fully informed of what is happening on the ground, so that together we can ensure great reliable postal service for all customers going forward. Postal patrons should email Blumenauer.casework@mail.house.gov.
What's been the result of this "experiment" over two months? Numerous customer service failings during the test, including entire routes not receiving delivery, presequenced mailings curtailed beyond requested delivery dates, and carriers instructed to disregard the address when delivering walk sequence and/ or marriage mail. Other issues include hold mail that is temporarily misplaced or not processed/resumed in a timely fashion, changes of address that are not being recorded, mail that does not get forwarded and businesses that are closed by the time the carrier arrives.
AND exhausted mail carriers, working 10-12 hour days, mandated overtime, exposure to a wide variety of safety issues, and delivering on routes that are too long that they are not familiar with.
From the November, 2019 Postal Record (of the National Association of Letter Carriers, NALC)
…"For many letter carriers, this test has involved 10-12 hour work days, mandated overtime in violation of the National Agreement and exposure to a wide variety of safety issues. Earlier/later start times and extended days have created extreme impositions on city carriers' lives and families. Affected carriers are reporting difficulties in obtaining adequate childcare, inability to attend important events and alienation from friends and family. In some test offices, carriers are herded like cattle down cluttered, congested, unsafe pathways. NALC has observed emergency exits blocked by test equipment, large quantities of staged mail and equipment blocking egress from the carrier cases, and increased length of exposure to inclement weather, all of which puts postal employees in danger. Letter carriers have reported increased feelings of anxiety, stress and frustration. Some carriers have reported sleep deprivation resulting from long hours and daily schedule changes. Additionally, other carriers report aggravated medical conditions because of the test. Peak season is upon us and it can be a stressful time for all postal employees. NALC is concerned that letter carriers involved in this test may face even greater challenges. Carriers are not the only people suffering from the USPS consolidated casing test; postal customers and mailers are suffering as well. NALC has observed numerous customer service failings during the test, including entire routes not receiving delivery, presequenced mailings curtailed beyond requested delivery dates, and carriers instructed to disregard the address when delivering walk sequence and/ or marriage mail. Other issues include hold mail that is temporarily misplaced or not processed/resumed in a timely fashion, changes of address that are not being recorded, mail that does not get forwarded and businesses that are closed by the time the carrier arrives. NALC has witnessed Delivery Point Sequence (DPS) and Flat Sequencing System (FSS) mail being returned to the plant for "re-processing," creating delayed delivery…."
Anonymous Carrier Statements
Anonymous senior, career letter carrier working at Kenton station – 97217 (will speak to media over phone)
The whole process has been very disruptive to the Letter Carriers at Kenton. This was unilateral action by the USPS. They did not consider seniority, safety, or territory when making these changes. Customers have experienced a lot of irregularities during this process. Career carriers are bidding out because of working conditions and being replaced with non-career carriers.
Anonymous junior, City Carrier Assistant working at Kenton station – 97217 (will speak to media over phone)
The "Consolidating Casing" test program is failing and should be ended immediately. It has caused innumerable contractual violations, undue hardships on all postal employees involved, made the work unhealthy, compromised our morale, not to mention turned very well established fundamentals of the Clerk and Carrier craft on their heads.
This has caused our workplace to become even more hostile and combative than it was to begin with. Many 'Regular' career carriers have permanently bid out of the station, there are more City Carrier's Assistants(a junior/entry level position) staffing the station than 'Regulars'. The station is running on twice as many hours, in a day, as it did before the "Consolidated Casing" went into effect. There are three more stations slated to begin this "pilot program" in the Portland area in 2020.
Workers at Kenton station are working 10, sometimes 12, hour shifts when 8 hour days were the norm. Many Carriers are only receiving one day off in a week. Mandatory overtime is commonplace and unavoidable. Mail routes and mail schemes have been redrawn in ways that make very little to no practical sense and in the extreme place Carriers in harm's way. I feel the pilot program is directly impinging on workers physical and mental well being. Family obligations are being neglected or compromised by the new system and pressures from management to "make it work."
Customers are not receiving mail, receiving mail that is not theirs. Mail holds, forwards, delivery hardships, outgoing mail collections and confidence in their Carriers and Post Office have all been adversely affected.
We are unable to provide the level of service that our customers deserve and we strive for.
This "pilot program" is bad for business, bad for our customers, and bad for the lives of those workers engaged in "Consolidated Casing".
There should be an immediate moratorium on "Consolidated Casing" not an expansion of it.
Customer Statements
97217  (North Portland) Postal Customer statements…
November, 2019
Peter Parks, 97217 (will speak at rally, would speak to media)
My mail has gotten really bad, arriving at all different times of the day, anywhere from 8 o-clock in the morning to quite late at night, sometimes I don't see it until the morning.
The letter carriers are not the same people.  I rarely see somebody that I recognize, there are so many different people that come.
One day I was watching someone get the mail out of his truck and it looked like he had several hundred pounds of mail that he had to carry around on one shoulder.   It looked like he was carrying more mail than he should be carrying safely.
We sometimes get letters that are addressed to somebody else.
We used to get postcards from the post office asking if we were getting our mail at the same time every day but not anymore.  We used to get our mail at 3:30 every day, give or take a few minutes, but that's gone away entirely.  The mail not being at the same time every day is very important for some retirees that get social security checks or anyone that's expecting something timely that they need for their lives.
My neighbor who used to live next to me was always looking out the window, waiting for the letter carrier.   At that time the letter carriers knew all the patrons and they looked after my elderly neighbor, if they hadn't seen her for awhile they would knock on her door and see if she was okay.
Also, since they knew everybody, one time one of the letter carriers found some things on the street that had apparently been stolen from somebody, they recognized the name and they took them to that person.
So they used to be really connected with the community.  That's gone away.  We don't know our letter carriers, even when we try, every day it's somebody different.
Miriam Linder 97217 (Arbor Lodge) –  will speak to media on phone
We've lived in this house in Arbor Lodge for more than 25 years and the mail delivery has been predictable, reliable, steady and then a month or two ago, things got really erratic and the mail was being delivered late.  After dark.  Often by mail carriers that we didn't recognize, didn't know, were not our regular carrier.  So we thought, what is going on here, surely they'll get this straightened out.  But it went on and on.
We talked to our regular letter carrier and he explained to us and our neighbor this change that they were implementing at Kenton post office, where one person cases the mail and another person delivers the mail.  He thought it was not a great idea.  I think it's not a great idea.  Familiarity with the route helps with casing and having cased one's own mail helps with the delivery.  I think that specialization or mechanizing the human being is not the direction we want to go. If a job like letter carrier has some diversity in the day, you case the mail and you deliver the mail, I think that's a better job for the person doing the job and for us postal patrons.
Nancy Hedrick 97217 Arbor Lodge, would speak to media
Our door-side service has been all over the map since they instituted changes some time ago this year.  (The mail may come at 1pm or 6:30pm, and may be delivered once or twice–the 2nd time being packages.)   My former postal guy told me that the union was opposed to the changes.
It was great when I had the same postal worker almost every day.  I could guess about when my mail would come, he never made mistakes, & he knew what I preferred he do with packages or large envelopes…and he could get his route done before it was well into the evening.  It was just one delivery per day.  Under the new system, some carriers are coming to houses twice, once with smaller items and later with packages.
North Portlanders don't report getting mail stolen, but some have certainly had packages taken…so knowing about when the carrier will show up is a plus for people expecting a package.
Peggy Zebroski, Overlook neighborhood, 97217  (late to rally)
Only the last couple of months, I've had misdirected letters.  Ridiculously misdirected.  I mean not just a block or two down on Alberta with transposed numbers but from far away, nothing resembling our address, like mail sorting is going out the window.  There's something very odd going on there.  And you never know when the mail is going to be delivered.  You can't rely on a regular delivery time anymore.  And different mail carriers every day.  I used to have a relationship but now you don't know who the poor mail people are.  That can't be fun for them.  Having new routes every day.  That's crazy.
Kent Spring 97217 (may be at rally, may speak)
There seems to have been some kind of experiment going on.  We're getting our mail either early in the morning or late, often times into the evening, after dark.  We've had a number of misaddressed things, people from five blocks away.   I talked to a substitute carrier who was by today.  She was frustrated because she knew nothing of this neighborhood.  The regular carrier has bid off the job, so mail delivery has been frustrating for the last several months.
Cora Noble 97217
I haven't seen our carrier in a while, and mail does sometimes come pretty late in the day (past 6pm).  The carriers we do get I don't know.  I really liked our old mail carrier and wish I got to see them more often.
North Portland (97217) Nextdoor.com posts from October/November, 2019
(NAMES HAVE BEEN REDACTED to XXX)
Gathered off Nextdoor.com by Nancy Hedrick (97217 resident) who summarized the main complaints as
Staff working longer hours.
Mail sometimes very late in day up to 7:30pm, or go up to 3 days without delivery.
Makes it hard to trust with either outgoing sensitive mail or incoming valuable packages.
Sometimes get 2 deliveries per day.
More mail mistakes, like getting wrong mail.
Staffer assigned to route changes frequently, so don't know nuances of individual customers. One customer complained that they didn't know when to let their dog out because of this unpredictability.
Packages don't reliably show up on the date that the tracking data shows they should.
Unpredictability impacting residences and businesses.
XXX, Arbor Lodge
About Kenton's post office protest on the 30th— is it ok to mail before then?
I got a cute card for a family member but really want to make sure it gets to them out in the suburbs before thanksgiving. I understand that some people in kenton and arbor lodge aren't getting their mail on time or not at all. I was wondering if there's an issue with outgoing mail (in the 97217 area) too? Thanks!
6 days ago · 12 neighborhoods in General
XXX, Arbor Lodge
6pm no mail yet!
2 days ago
XXX , Arbor Lodge
Have heard nothing about a strike but our mail delivery has been very random. Sometimes during day, sometimes not until evening. Other times no mail delivery at all. Last Saturday, 11/16…no mail delivery at all on our street. Yesterday called Kenton P/o to inquire as to what was going on. No one ever answered. It rang & rang and ultimately it disconnected. Called the 800 number to learn wait time was exceeding 1/2 hour. I gave up. Something is definitely wrong.
6 days ago
XXX, Arbor Lodge
Just so people are clear on the background. The Kenton Branch has been forced to try an experiment that has failed in every City it has been tested in. The result of the experiment has been Post Workers forced to work up to several overtime hours daily, late shifts, broken up shifts resulting in mail deliveries being delayed or not delivered (in some business districts). The new "routes" often have our Post Workers walking 40-50 miles daily. This is not their fault, and I don't think anyone is upset with our Post Workers who do an incredibly thankless job with kindness and humor. I'm not really sure what the protest is about but my mail carrier today said it wasn't affiliated with the Post Office. She also said she is moving to an East Portland route because the Kenton Experiment has been so detrimental to her health and well-being. I know at least two other post workers leaving the Kenton branch over this experience. Folks should rightly be protesting the Post Office forcing this failed experiment on our branch and pushing to return it to the old way. They are acting like their workers are disposable, and they aren't. But they also want to try and push it on to the worker's when people complain so we need to make it absolutely clear that we support the workers, not the experiment
11/20
XXX, Kenton – West
Our mail has been screwy since the summer. Missing mail, no mail, neighbors mail, etc. So if it's a failed program, I'd have to agree that it is indeed a failure.
20 Nov
XXX, University Park
Again, I will repeat, what is going on at Kenton PO is a national test program that has been tried before and failed miserably. Unfortunately a national judge refused to put a stop amid much protest.?the best you can do is complain to Reese Steelman, Portland Post Master.
20 Nov
XXX, Arbor Lodge
I've wondered why sometimes we get 2 deliveries of our mail. I feel for the mail carriers, such a complete waste of their time. I used to leave bills in my mail box to be picked up since my husband doesn't like me to cross busy Rosa Parks to mail a bill. But since the mail delivery has been kind of spotty, I don't feel comfortable that my bills will make it to their destination. Not faulting the postal carriers necessarily, but the system makes me nervous right now. I'd rather take my chances crossing Rosa Parks.
6 days ago
XXX, Kenton – West
Over the past few weeks, mail service has been horrible. You are lucky if you get your mail by 7:30pm if at all.
XXX, Overlook
We have a different carrier almost everyday. I feel sorry for the postal employees who have to deal with the mess that this national test program has created. Everyone needs to give the post office feedback. I've called twice when neighbors are getting my mail or when I'm getting someone else's. They need to know the program is a failure.
6 days ago
XXX, Kenton – East
I really want to know what is going on. One carrier told me, they have turned all of their routes around. And my carrier, is now coming from the South, instead of the North. Crazy. Yes , there are days I do not get mail delivered. Guess I need to look in to this.
6 days ago
XXX, Piedmont
Our mail service has been a little loopy, but most of my mail is junk mail or my neighbors' junk mail, so it doesn't really bother me. Plus shit happens. My Fred Meyers coupons are probably the most valuable piece of mail that I look forward to. Anything important comes to me via email. #savetrees
6 days ago
XXX, Portsmouth
The Kenton post office doesn't have a full staff of regular carriers. That means, if you see a different carrier everyday your route is one that is missing a carrier. The carriers are working 10 hours plus. They are carrying after dark. All first class mail must be delivered. So there's two types of mail going out at different times. Your outgoing mail will be delivered. No worries. Be patient with your carrier. Many of them are NOT on the ODL (overtime desire list) yet they are working 10-12 hours anyways. The " strike " isn't official post office strike. There's a lot of undercover things going on that is wrong in the Kenton office. A lot of contract breaking. If you see your carrier try to nice and understanding to them.
6 days ago
XXX, Kenton – West
I have had to go into the post office to "find" my mail. When the manager couldn't find my mail, that was indicated by email would be coming to me that day, the manager took my info. and said he would follow up. He didn't. The management of the Kenton Post Office does not follow up on complaints or concerns that is shared in person at the post office or by phone. I have had several problems with the Kenton post office that can be directly attributed to the disinterest and lack of care by those who run this station. I do not blame the over-worked carriers who are doing their best in a situation that can only be called chaotic at best. My understanding is that the superiors above the managers know that there is a problem with this station, but the people who run this station seem to continue to run this station into the ground.
6 days ago
XXX, University Park
The order for this trial run at Kenton PO is WAY above the Kenton management, above the pdx postmaster. It is national headquarters for PO. The Letter Carriers union can only continue to fight and ask for actions from judges/politicians etc. Honestly, I believe it is part of a plan to get the public's' outcry for privatization to kill the USPS, which BTW operates on NO TAX DOLLARS. It is funded by the services provided, controlled by Congress
5 days ago
XXX, Arbor Lodge
Your mail will continue to be delivered(coming or going) This is not a strike at the Kenton P.O. but an informal organization of neighbors(read: customers of the station) meant to show dissatisfaction with mail service and support of Letter Carriers and Clerks at Kenton station. Thank you for your patience and continued support!
5 days ago
XXX, Arbor Lodge
Please Attend Reply to contacts at bottom with your personal experience regarding mail service in 92717
https://d3926qxcw0e1bh.cloudfront.net/post_photos/c6/94/c694849bafe4730a59a55d3364227ac2.jpghttps://d3926qxcw0e1bh.cloudfront.net/post_photos/c6/94/c694849bafe4730a59a55d3364227ac2.jpg
5 days ago
XXX, University Park
I JUST retired from USPS after over 26 years delivering mail. I even had a route at Kenton for two years of those years. 🙂 I've worked with Leo (and Yolanda) during my time. Two of the nicest and sincerest postal workers out there.
5 days ago
XXX, Overlook
I received someone else's mail which I will return to them personally. I'm wondering who got mine. This happens about every other day or so now. Never used to.
Edited 4 days ago
XXX, Kenton – West
I didn't get mail today or yesterday
XXX, Arbor Lodge
Saturday 11/23 @6:25pm. Just got home from church to find 4 mail trucks on N SEWARD. One halfway blocking our driveway. One by one they got their bags from the first truck in the line of four and left. Now 6:50pm and one mailman left delivering on our street wearing headLamp. This is not safe for our mailmen – most neighbors don't have porch lights on. How can we tell DC their test Is NOT working???
3 days ago
XXX, University Park
Write to DC post office. Here in Oregon, contact our congressmen! Send emails, written letters and phone calls! Barrage them. Our Oregon politicians support the Letter Carriers but they need your voice too!
3 days ago
XXX, Arbor Lodge
I have posted the details of the protest and what can be done, for those who cannot attend; please refer to today's posting of Wednesday, November 27th. Thanks and blessings to you and yours.
10 hr ago
XXX, Overlook
We have our Border Collie outside in our fenced yard and we never know when the mail person would be by so we can put our dog in the house to accommodate them because when she is out they won't deliver our mail even though she is all bark and can't get to them. We loved our regular guy Brandon. He would bring her treats and all we had to say is "Brandon's here" and she would push open the ftont door and great him at the gate in the sit down position patiently waiting for him and then bark at him when he would leave her. It was so cute to watch. Then we got a person that wasn't so friendly. My first time seeing him i was trying to be nice and so was Cassie, she sat and waited until she noticed it wasn't Brandon. I petted her on the head and told her that I was sorry but it's not Brandon today and the mail person put our mail in the box and he said "nope I'm not and she's there because Brandon would give her treats and that's not me, she will never see Brandon again". I was thrown aback at that statement and he walked off and Cassie proceeded to bark at him. Dog's know humans better than we know ourselves. She didn't like this person and frankly neither did I. But now we don't get our mail if she is out. I know barking can be intimating and I understand people can be afraid of dogs. My recommendation is to carry treats with you. Brandon did and he won over many dogs. I also think it's not a good job for anyone who is afraid of dogs. I miss having Brandon as our mail carrier and so does Cassie.
1 day ago
XXX Arbor Lodge
A public action in support of your Letter Carrier and Mail Clerk in 97217 and protest against pilot program under way at Kenton Station P.O. Please attend and reach out to contact at bottom of the poster with your personal story of how this program has affected your mail delivery Thank you all for you support and patience
5 days ago
XXX, Kenton – East
I think you're right – sounds like we have a lot of postal carrier – adjacent neighbors in the know! Hopefully they fix it soon. My brother just came home from delivering at his station and his bosses think the Postmaster General is trying to privitize mail! If they do a bad enough job customers will go elsewhere! 😠
6 Nov
XXX, Portsmouth
At least yours was in your box mine was out by my gate in my newpaper box not in the mailbox on my house. I called and filled a complaint. I have seen mail delivered after dark by head lamp before the time change.
11/5
XXX, Portsmouth
I have seen as late as 8 pm
5 Nov
XXX, Arbor Lodge
Still waiting for my mail delivery tonight. Normally I'm not too concerned but I have a letter waiting to go out.
And my mail wasn't delivered or picked up yesterday.
6 Nov
XXX, Overlook
Our mail person said they added 400 more houses to her route. Which makes it like 900? Which seems insane. I feel sorry for her. She's doing the best she can
5 Nov
XXX, Kenton – East
This is correct, my brother had to go help them out the other night after he finished his route at a different station. He said the mail was all cased incorrectly and it was complete chaos… He walked back and forth to many houses as the mail was not in order at all, but they're not supposed to do that too many times, so he ended up bringing quite a bit back at the end of the night.
6 Nov
XXX, Overlook
We have had many days with no mail carrier showing up at all – I've put outgoing mail to be taken and it sat all day for two days, got picked up after suppertime the second day. Also had a B-day card picked up that way – delayed – and I just found out the person I sent it to never received it. Where did it go…? (Her address has been the same for years, and I've sent her things in the past – also, our return address was clearly on it, we have not had it returned…) I've wondered sometimes if all there is to be delivered is junk mail, that perhaps the carrier skips us completely. From what I'm reading here, this is starting to make more sense. I do hope it gets back to normal soon.
6 Nov
XXX, Arbor Lodge
Terrence, and all my Neighbors in 97217 zip (Kenton P.O.s mail zone), this is a systemic issue internally(not to mention nationally)for USPS and Kenton, not one carriers' failure to perform their duty or uphold their oath. Your Complaints are appreciated, and should be taken seriously. There may yet be other outlets for your concern, though Reece Steelman (Postmaster for Western Area), Is as high up the chain of command as you can go for the region. Please look for a national petition for the appointment of a progressive, pro-Letter Carrier Postmaster General on agrandalliance.org also look into H.R.2382 a bill headed through the house here congress.gov/bill/116th-congress/house-bill/2382?s=1&r=8 Also right here at your Kenton P.O. please show your support for your Letter Carriers and Mail Clerks by voicing your frustrations, concerns and rejecting the implementation of the nationwide '6 in 1 Consolidated Casing Pilot Program'
11/16
XXX, Piedmont
Did you happen to receive my mail?
I recently signed up for informed delivery on the USPS websight so I could see what mail I SHOULD be receiving because I felt like I wasn't always getting my mail. Also, fairly often I get other people's mail. Last week I was supposed to receive an important letter. It shows up on my informed delivery . However, when I met the postal carrier in the driveway he handed me a bundle of mail that was not only the incorrect house number but also the wrong street. I started to get nervous that he had delivered my important piece of mail to the wrong address and sure enough he didn't have my mail and only shrugged when I asked him where it could be😩. That was last Tuesday and still my letter has not surfaced. At the Kenton post office,the supervisor tried to put the blame on the person who sent my letter saying they should have put tracking on it because" Mail gets lost all the time" WOW! Dear neighbors, If you received my letter by accident, would you please drop it in the mail slot in my front door. Thank you!
2 Nov · 17 neighborhoods in General
XXX, Piedmont
I am finding that things are showing up 3-4 days after they should have arrived, sometimes even with tracking and deliver confirmation. But they are showing up.
3 Nov
XXX, Concordia South
It shows up a day or two later only because your neighbors who got your mail were kind enough to put it in your mailbox themselves or back out in their box with a note to the carrier. That is how i got my $150 Washman gift card last week, one day late after seeing it out for delivery on USPS Informed Delivery. Thank you neighbors.
3 Nov
OCTOBER COMPLAINTS:
XXX, Arbor Lodge
Anyone else not getting their mail?
I enrolled to get emails showing what mail is coming to my house the day of intended delivery. That being said, lately quite a few items have been missing and one international parcel was marked as attempted delivery but there was no slip left for a signature even though I received notification there was one left and I could pick up my package. Is anyone else having these issues is it a strike or something or new routes? I'm on N Villard.
13 Oct · 7 neighborhoods in General
XXX, Arbor Lodge
Hi Gene, I had issues a few weeks back on a package that was originally shipped FedEx, but when they texted me that the package was delivered and I didn't get it, I called them and they said it was contracted through USPS and to call them. The delivery info online gave conflicting information indicating first that delivery was attempted with an incomprehensible reason why it was not delivered and then that the package was delivered. So I called our local Kenton Post Office 4 separate times over 3 days and each time I was told they would look into it and get back to me. The last time I spoke to the Supervisor who told me there was some staffing changes and things were basically disorganized and it sounded like a mess. Although he never called me back like he promised, the next day, my package arrived along with a bunch of mail that had not been delivered since early September. It sounds like they are still in a mess and need to clean things up. My mail now arrives much later in the day than it used to.
13 Oct
XXX, Overlook
We went without mail for three or four days this week. Then Saturday we had mail delivered three times!!!!
13 Oct
XXX University Park
As a postal letter carrier, I can tell you all live in the Kenton Post Office area of delivery. Some high mucky-muck thought it would be a brilliant idea to have one set of people get mail ready in the morning and have another set of people delivery it. It is only in the Kenton PO station, as a trial, which is obviously so ineffective! It has been difficult on that whole station. This has been tried elsewhere in the country years ago without success. Your best bet is for every single one of and all your neighbors to call the Post Master, Reese, in Portland and COMPLAIN mightily.
13 Oct
XXX, Overlook
There have been weeks lately when I get no mail at all for three days straight, and my expected disc from Netflix is always a day later than it's supposed to be. Something is screwed up.
13 Oct
XXX, Arbor Lodge
I'm lucky enough to be able to chat with my postal workers each day at my shop. This is an incredibly frustrating "trial" that has resulted in workers having to take on 10-12 hour days, walking upwards of 40+ miles a day. The routes are now all over the place so they may do one block and then have to jump over 6 blocks and then back. It's ridiculous. They are tired and over working their bodies. I encourage you to register complaints, and if you are in a business district also register a complaint that the new system often means your post officer won't show up during working hours leading to missed mail and lots of mis-delivered mail due to their being a different worker nearly every day.