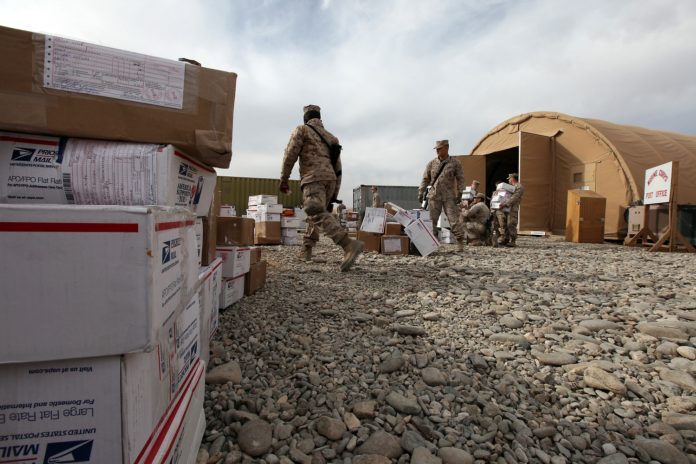 The USPS Reports:
The holiday season is the most wonderful time of the year, but many people miss loved ones who are stationed overseas as military or diplomatic members. While the holidays are a hard time to be away from home, the U.S. Postal Service makes it a priority that those serving their country will receive their presents, care packages and cards in time for the holidays — no matter where they may be.
To send packages to loved ones serving in the military and diplomatic posts abroad, the Postal Service offers a discounted price of $17.35 on its largest Priority Mail Flat Rate Box. The price includes a $1.50 per box discount for mail sent to APO/FPO/DPO (Air/Army Post Office/Fleet Post Office/Diplomatic Post Office) destinations worldwide.
Priority Mail Flat Rate Boxes are available at no cost at local Post Offices and online at shop.usps.com. Postage, labels and customs forms can be printed online anytime using Click-N-Ship at usps.com/ship.
To ensure timely delivery of holiday wishes by Dec. 25, the Postal Service recommends that cards and packages be sent to military APO/FPO/DPO addresses overseas no later than the mailing dates listed below.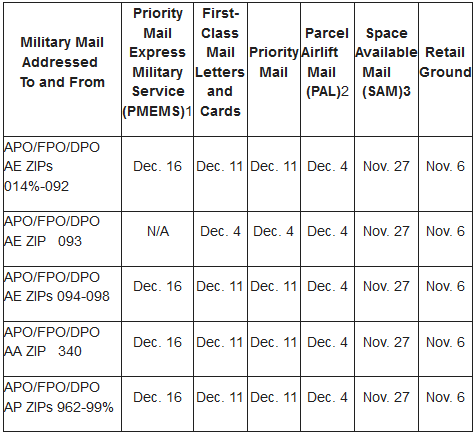 1 PMEMS is available to selected military/diplomatic Post Offices. Check with your local Post Office to determine if this service is available to an APO/FPO/DPO address.
2 PAL is a service that provides air transportation for parcels on a space-available basis. PAL is available for Standard Post items not exceeding 30 pounds in weight or 60 inches in length and girth combined. The applicable PAL fee must be paid in addition to the regular surface price for each addressed piece sent by PAL service.
3 SAM parcels are paid at Standard Post prices with maximum weight and size limits of 15 pounds and 60 inches in length and girth combined. SAM parcels are first transported domestically by surface and then to overseas destinations by air on a space-available basis.