TOP STORIES
PMG DeJoy Calls for New 'Tone' for USPS
1.06.2021 - Linn's Stamp News reports: "In a Jan. 4 address to postal employees, Postmaster General Louis DeJoy appeared to be setting the stage for major changes in the way the United States Postal Service operates. "As we begin the new year, I want us to set a new tone," he said in a video message. "I want to put our organization and every employee in a better position to succeed," he said." - Video - Comments (Count)
CDC Panel Designates USPS Workers as Next in Line for COVID-19 Vaccine
12.26.2020 - GovExec reports: "Postal Service employees are now slated to be in Phase 1b of vaccine distribution, as part of 49 million individuals older than 75 or part of the non-health care frontline essential workforce. The Center for Disease Control and Prevention's Advisory Committee on Immunization Practices made its recommendation in a 13-1 vote, noting USPS workers were part of a group "critical to the functioning of society." - Comments (Count)
Postal Service Pulling out All Stops to Meet Seasonal Volumes Amid Pandemic
12.15.2020 - USPS reports: "While every year the Postal Service carefully plans for peak holiday season, a historic record of holiday volume compounded by a temporary employee shortage due to the COVID-19 surge, and capacity challenges with airlifts and trucking for moving this historic volume of mail are leading to temporary delays. These challenges are being felt by shippers across the board." This is our Super Bowl - USPS faces busiest time of the year with more than 14,000 employees quarantined - Washington Post: USPS Gridlocked - Detroit: Letter Carriers assigned two eight-hour routes each day - Potential nor'easter could exacerbate delays - We are slammed like never before - Comments (Count)
USPS 'hopeful' freedom to set higher mail rates will increase revenue
12.01.2020 - Federal News Network reports: "The Postal Service is on track to receive more pricing flexibility for its mail rates, a move that its leadership says will put the agency on firmer financial footing. The Postal Regulatory Commission released a final rule Monday that would keep a price cap on market-dominant products like first-class mail, but would base the cap on changes in mail density and retirement costs." - PRC busts the price cap, lawsuits sure to follow - PRC Lays Out New Rules for USPS - Order (PDF) - Comments (Count)
@postal

Delivering to an old folks home be like...

When it's Thursday and your 3-day weekend starts tomorrow @mailmanproblems

If it fits it ships? @mailmanproblems

I'm scared of the ducks

The new year has started, but customers still waiting on Christmas packages

LTD edition Christmas cards

We made it!

That's a good boy

My FAVORITE mailboxes!!!!

Letter carrier delivers mail in deep snow

When I come to work. When I leave work.
COVID-19
APWU
- Leave for Childcare
- Temporary Additional Paid Leave for PSEs
NALC
- Rolando Statement (April 25) (PDF)
- Rolando Statement (April 17) (PDF)
- Sick Leave for Dependent Care (PDF)
- Temporary Additional Paid Leave for CCAs (PDF)
- 7:01 Rule (PDF)
NPMHU
- Extension of MOUs (May 22) (PDF)
- COVID-19 FAQ
- Sick Leave for Dependent Care (PDF)
- Temporary Additional Paid Leave (PDF)
NRLCA
- Sick Leave for Dependent Care (PDF)
- Temporary Additional Paid Leave for RCAs
COVID-19 Resources
- CDC FAQ
- COVID-19 Dashboard John Hopkins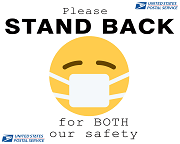 "Stand Back" sign for postal vehicles, by AngryMan (not official - click to see full size, right click to download)