TOP STORIES
USPS Issues Statement on COVID-19 Vaccines
9.17.2021 - USPS reports: "We are working closely with our union leadership so that once OSHA's COVID-19 Vaccination Emergency Temporary Standard (ETS) is issued we can move quickly to determine its applicability to our employees and how best to implement." - GovExec.com: Wait-and See - FACT CHECK: Postal workers to follow OSHA vaccine guidance, White House says - USPS says vaccination, testing requirements subject to 'mandatory' union negotiations - NALC: Currently it is unclear... - APWU: Waiting to see if rules apply - So is the Post Office subject to Biden's vax mandate or not? - Confusion - FOX News - White House clarifies USPS workers will be subject to vaccine mandate - Some Greater Cincinnati postal workers unhappy about mandate - Comments (Count)
Postal Service to Hire 100,000 Employees in 2021
8.26.2021 - GovExec.com reports: "The hiring campaign started in January of 2021 and will continue into January of 2022, said Dave Partenheimer, a postal spokesman. USPS is looking to stop the bleeding on attrition while also engaging in an annual hiring spree to prepare for the upcoming holiday season, the mailing agency's busiest time of the year." - Comments (Count)
Significant USPS Rate Hike Will Move Forward This Month After Court Rejects Request for Pause
8.24.2021 - GovExec.com reports: "USPS will raise rates for regular, First-Class mail by 6.8% and for package services by 8.8%. A standard stamp will go from $0.55 to $0.58. Large-scale mail users are suing the Postal Service and the Postal Regulatory Commission, arguing the authority postal management used to implement the rate increase is unlawful." - Starting this weekend - Comments (Count)
Postal Service to Move Ahead With Mail Delivery Plan
8.09.2021 - Linn's Stamp News reports: "The United States Postal Service is pressing ahead with Postmaster General Louis DeJoy's 10-year plan to slow mail deliveries despite the efforts of two new members of the Postal Service's board of governors to derail the controversial proposal." - USPS Statement - USPS Finalizes Plan - Starts Oct. 1 - Here's Where Mail Will Slow Down - Federal Register Notice (PDF) - Comments (Count)
@postal

I always feel like somebody's watching me

Crate challenge USPS style

When the back pay hits the account

How your route look when you come back from vacation

You'll be back in eight though right?

They tryna kill us lmao

I think this is illegal but I love USPS

Here comes my favorite letter carrier Shaun!

Me walking past the house that has a 15-day vacation hold, but...

Lost Packages

When you pull up at yo job...

Delivering to an old folks home be like...

Rural carriers vs. city carriers

Tips for new CCAs

Wana go grab some lunch?

USPS New Routes @uspstv
COVID-19
APWU
- Leave for Childcare
- Temporary Additional Paid Leave for PSEs
NALC
- Several MOUs Extended (March 2021)
- Rolando Statement (April 25) (PDF)
- Rolando Statement (April 17) (PDF)
- Sick Leave for Dependent Care (PDF)
- Temporary Additional Paid Leave for CCAs (PDF)
- 7:01 Rule (PDF)
NPMHU
- Return to Work Instructions (Jan 28, 21) (PDF)
- Extension of MOUs (May 22) (PDF)
- COVID-19 FAQ
- Sick Leave for Dependent Care (PDF)
- Temporary Additional Paid Leave (PDF)
NRLCA
- Sick Leave for Dependent Care (PDF)
- Temporary Additional Paid Leave for RCAs
COVID-19 Resources
- CDC FAQ
- COVID-19 Dashboard John Hopkins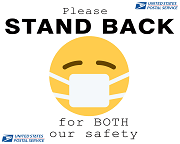 "Stand Back" sign for postal vehicles, by AngryMan (not official - click to see full size, right click to download)