TOP STORIES
LA Times: Rigid Dispatch Schedules Brought Postal Chaos
9.21.2020 - LA Times reports: "Workers who spoke to The Times described troubling details about how the rigid schedules have played out: Some trucks have traveled empty, and mail left behind has accumulated at massive processing centers, creating backlogs in a system that is not designed to store mail." - The Guardian: Revealed: evidence shows huge mail slowdowns after Trump ally took over - Forbes: Infographic - Comments (Count)
Washington Post: Newly revealed USPS documents show an agency struggling to manage Trump, Amazon and the pandemic
9.17.2020 - Washington Post reports: "The documents, which mostly span March and April, depict an agency in distress, as its deteriorating finances collided with a public-health emergency and a looming election that would be heavily reliant on absentee ballots. During that period, the USPS occasionally relied on the legal counsel of well-connected Republicans, including Stefan C. Passantino, who once served as a top White House lawyer under President Trump." - Postal Service feared Trump's rhetoric could cost it billions in Amazon business, documents reveal - American Oversight published Megan Brennan emails in August (used by Washington Post story) - White House axed plan to send five masks to every household - Comments (Count)
Postal Employees Skeptical as Top Officials Testify They Were 'Appalled' Over Mail Delays
9.16.2020 - GovExec reports: "Top U.S. Postal Service officials testified in court on Wednesday they were "appalled" and "concerned" about decisions made at the local level that led to widespread mail delays, though employees on the front lines said the late deliveries were a result only of workers following direction from headquarters." - Comments (Count)
More Headlines for PMG DeJoy
9.07.2020 - Multiple news agencies are reporting on a Washington Post article that accuses PMG DeJoy of reimbursing former employees for GOP donations.
DeJoy spokesman Monty Hagler told the Post that DeJoy consulted a former Federal Election Commission general counsel to ensure that he "complied with any and all laws" and that DeJoy was "never notified" about employees feeling pressured, and several employees told the Post on the record they didn't feel pressured and bonuses were "rigid and well-established." (Forbes)
CNN Headline: Washington Post: DeJoy Reimbursed Former Employees for GOP Donations
| Washington Post Article (Subscription) | The Hill: Schumer Calls for Investigation | NYT: Arrangement described by 3 former employees; 2 executives say they never heard of such an arrangement | Bloomberg: Democratic AGs demand probe - Federal statute of limitations expired - DeJoy statement via spokesman - House Dems Demand DeJoy's Immediate Suspension and Launch Probe - Trump Supports Probe - Trump says DeJoy should lose his job if fundraising allegations are proven - Comments (
Count
)
@postal

Someone yarnbombed the mailbox!

Oh give me a home where the buffalo roam!

WATER IS WET STAY DRY @mailmanproblems

Hatch Act Violation

I ain't UPS... @mailmanproblems

That one carrier than can fit his whole route in this... @mailmanproblems

CCA vs Regular

We need our USPS to live

Join the fight for the Resistance

USPS Matters

Look who's suddenly in the cool kids club

When boomers hear the mailbox/scanner @mailmanproblems

Paw Five

Defend Our Post Office

Yalls mail is gonna be late today

Comuta-van Postal Vehicle

NJ residents complain of slow or no mail delivery

When you finally get assigned a Promaster, but... @mailmanproblems
COVID-19
APWU
- Leave for Childcare
- Temporary Additional Paid Leave for PSEs
NALC
- Rolando Statement (April 25) (PDF)
- Rolando Statement (April 17) (PDF)
- Sick Leave for Dependent Care (PDF)
- Temporary Additional Paid Leave for CCAs (PDF)
- 7:01 Rule (PDF)
NPMHU
- Extension of MOUs (May 22) (PDF)
- COVID-19 FAQ
- Sick Leave for Dependent Care (PDF)
- Temporary Additional Paid Leave (PDF)
NRLCA
- Sick Leave for Dependent Care (PDF)
- Temporary Additional Paid Leave for RCAs
COVID-19 Resources
- CDC FAQ
- COVID-19 Dashboard John Hopkins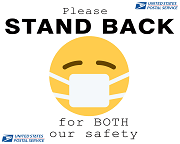 "Stand Back" sign for postal vehicles, by AngryMan (not official - click to see full size, right click to download)