TOP STORIES
Postal Service to deliver mail Friday and Saturday, despite new Juneteenth holiday
6.18.2021 - USA Today reports: "Neither rain nor snow nor hail nor sleet - or even the new Juneteenth federal holiday - will stop the mail. Mail delivery will go on as scheduled on Friday and Saturday even though Friday is a federal holiday under a new law signed Thursday by President Joe Biden. Biden gave federal workers a day off when he signed a bill on Thursday making Juneteenth, celebrating the end of slavery in Confederate states, into the country's newest holiday." - APWU Demands USPS Recognize Juneteenth as a Holiday - USPS Issues Statement - USPS 'critical infrastructure' - USPS fully supportive of holiday, will continue regular operations this year - Comments (Count)
USPS raises stamp price to 58 cents under DeJoy's 10-year plan
5.28.2021 - FOX Business reports: "The price increase is part of Postmaster General Louis DeJoy's 10-year plan, introduced in March, to reorganize the Post Office and avoid a projected $160 billion loss over the next decade. The initiative includes longer delivery times for some first-class mail, shorter hours for some post offices and more expensive postal rates." - USPS News Release - Comments (Count)
USPS Faces Preemptive Backlash to Expected Soaring Price Hikes
5.27.2021 - GovExec reports: "Constrained by inflationary caps, USPS has issued modest price increases of around 2% in recent years. This year, observers expect the hike could be as high as around 7% for First-Class Mail and higher for other products. In a recently released 10-year business plan, postal management said it expected to increase revenue by $35 billion to $52 billion over the next decade directly from rate increases." - Comments (Count)
@postal

Does he bite?

Whose dog is this?

Can you give me my mail?

Ready to roll at 07760

Supervisors be like... "just pop it back in and be back in 8."

USPS and UPS trucks collide

USPS New Routes @uspstv

Came home to a smashed mail box so I checked the security camera...
COVID-19
APWU
- Leave for Childcare
- Temporary Additional Paid Leave for PSEs
NALC
- Several MOUs Extended (March 2021)
- Rolando Statement (April 25) (PDF)
- Rolando Statement (April 17) (PDF)
- Sick Leave for Dependent Care (PDF)
- Temporary Additional Paid Leave for CCAs (PDF)
- 7:01 Rule (PDF)
NPMHU
- Return to Work Instructions (Jan 28, 21) (PDF)
- Extension of MOUs (May 22) (PDF)
- COVID-19 FAQ
- Sick Leave for Dependent Care (PDF)
- Temporary Additional Paid Leave (PDF)
NRLCA
- Sick Leave for Dependent Care (PDF)
- Temporary Additional Paid Leave for RCAs
COVID-19 Resources
- CDC FAQ
- COVID-19 Dashboard John Hopkins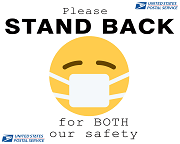 "Stand Back" sign for postal vehicles, by AngryMan (not official - click to see full size, right click to download)