TOP STORIES
USPS Regulator Approves Price Spike But Warns Mail Slowdowns Could Have Worse-Than-Expected Impact
7.20.2021 - GovExec reports: "The Postal Regulatory Commission on Tuesday did not flat out reject Postmaster General Louis DeJoy's plan to slow down delivery windows for some mail, but suggested the proposal was not fully thought out and its success was far from guaranteed. On Monday, it signed off on the Postal Service's new pricing structure set to go into effect later this year." - PRC Issues Advisory Opinion (PDF) - Linn's: PRC endorses USPS rate case - Controversial Plan Slammed By Postal Regulator - Comments (Count)
Capitol Hearing Focuses on Frustrations With Mail Delays
7.14.2021 - WUSA 9 reports: "Today, we leave mail behind because of plant processing issues, machines breaking down and fewer machines in the building. We make fewer trips, we are understaffed and we are required to stick to a rigid delivery schedule which requires drivers like myself to leave with trucks that are not fully loaded," postal truck driver Brian McLaurin said during the hearing. "To make matters even worse, postal facilities are short-staffed. When mail finally arrives at the station, there are not enough workers to process the mail and get it through for delivery." - IG Whitcomb Testifies Before U.S. Senate (PDF) - C-SPAN - Coons Grills USPS Inspector General Over Delays - USPS mail delays continue throughout the state, frustrated Marylanders testify on Capitol Hill - Comments (Count)
House Lawmakers Tell USPS to Postpone Rate Hike to January 22
7.03.2021 - Federal News Network reports: "Two members of the House Oversight and Reform Committee, Government Operations Subcommittee chairman Gerry Connolly (D-Va.) and National Security Subcommittee Ranking Member Glenn Grothman (R-Wis.) are leading 11 other Republicans and eight other Democrats in calling on USPS to delay the price increase, which will take effect Aug. 29." - Comments (Count)
@postal

When you pull up at yo job...

Delivering to an old folks home be like...

Rural carriers vs. city carriers

Tips for new CCAs

Wana go grab some lunch?

How your route looks when you come back from vacation

Parcel volumes will go down after COVID, right?

How it feels when you're always the last one to hit the street

Does he bite?

Whose dog is this?

USPS New Routes @uspstv
COVID-19
APWU
- Leave for Childcare
- Temporary Additional Paid Leave for PSEs
NALC
- Several MOUs Extended (March 2021)
- Rolando Statement (April 25) (PDF)
- Rolando Statement (April 17) (PDF)
- Sick Leave for Dependent Care (PDF)
- Temporary Additional Paid Leave for CCAs (PDF)
- 7:01 Rule (PDF)
NPMHU
- Return to Work Instructions (Jan 28, 21) (PDF)
- Extension of MOUs (May 22) (PDF)
- COVID-19 FAQ
- Sick Leave for Dependent Care (PDF)
- Temporary Additional Paid Leave (PDF)
NRLCA
- Sick Leave for Dependent Care (PDF)
- Temporary Additional Paid Leave for RCAs
COVID-19 Resources
- CDC FAQ
- COVID-19 Dashboard John Hopkins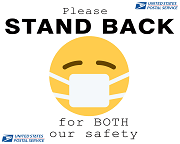 "Stand Back" sign for postal vehicles, by AngryMan (not official - click to see full size, right click to download)