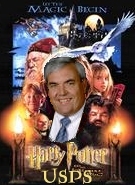 It's Potter season at the movies and at the Post Office. As the Alliance of Nonprofit Mailers notes, the young Potter "apparate a shimmering pile of magic gold - at just the right time" (in referring to the Postal Service's recent finding of $27 billion in an overfunded retirement account).
Those who thought that former postal clerk Jack Potter would be just another ordinary Postmaster General better think again. A year ago, postal prospects never looked bleaker. Today, postal prospects haven't looked better in several years. The service's rosy outlooks are largely due to the direction of Potter, who has maneuvered the Postal Service through a difficult period and outmaneuvered several postal labor unions in contract negotiations.
Potter's recent successes have been a combination of circumstances, coincidences, and personal savvy. Take for example the Transformation Plan, which was championed by Potter. The plan was being finalized when terrorists struck the World Trade Center and the mail system in September and October of last year. The attacks temporarily precipitated the anticipated decline in mail volumes and the need for transformation. As a result, during the course of this past year, Potter has been able (forced) to trim administrative staff, streamline postal operations, and consolidate functions - key components of the plan. Today, the Postal Service is leaner and mail volumes are returning to pre 9/11 levels!
Potter has also been able to use the events of 9/11 and the anthrax attacks to his advantage in labor contract negotiations. The National Association of Letter Carriers (NALC) was enticed into a negotiated contract settlement that promised only modest wage increases over the course of several years. This job and wage security seemed attractive to many union members in the aftermath of the terror attacks and the resulting postal crisis. Many members were happy to get anything at all. Potter was able to close the deal before (comparable) United Parcel Service workers were able to secure a lucrative contract from their employer. (It makes you wonder what kind of business intelligence Potter receives from the U.S. Government.) Potter has also placated the American Postal Workers Union (APWU). Just recently, even after $27 billion in overpayments to the CSRS fund were found by the OPM and the USPS, APWU leadership agreed to a tentative contract extension offer that offered only meager wage increases and a "promise" for the OPM to consider "special retirement opportunities". APWU President William Burrus defended the agreement, stating that postal finances could be worse a year from now and that the $27 billion savings did not add one dime to Postal Service coffers. (However, the find could turn a projected $600 million surplus into a $3.5 billion surplus for fiscal year 2003 alone.) Additionally, the Postal Service was able to secure a favorable judgment from an arbitrator in rural carrier contract negotiations that is saving the Postal Service millions of dollars annually.
Moreover, due to the temporary drop in both mail volumes and postal finances as a result of the terror attacks, Potter and the Postal Service were able to secure a postage rate increase that took effect in June 2002. Additionally, Potter was able to cancel the Postal Service's controversial executive bonus program due to the Postal service's supposed financial shortfalls.
In hindsight, Potter's vision appears to be 20/20. Potter has advanced components of his Transformation Plan, obtained favorable contracts with the service's labor unions, secured a postage rate increase, and eliminated executive bonuses, all before $27 billion was found by the OPM in overpayments to the CSRS retirement fund. As it turns out, the Postal Service wasn't doing as bad as people thought it was. In fact, there would not have been any postal deficits if the overpayments had not been made. Instead, the Postal Service would have been showing profits of a billion dollars or more each of the past several years. Though fundamental postal problems remain, decisive actions by Postmaster General Potter have placed the Postal Service in a manageable situation through the next several years:
- The Postal Service is leaner and more efficient.
- Favorable and long-term labor contracts are providing financial stability (and savings).
- Postage rates are sufficient to cover operating expenses for the next several years.
- The Civil Service Retirement System has been found to be almost fully funded. (Eat your hearts out Enron, WorldCom, and ImClone.)
- Transformation Plan initiatives will continue to be advanced.
Potter magic isn't only at the movie theaters this season!