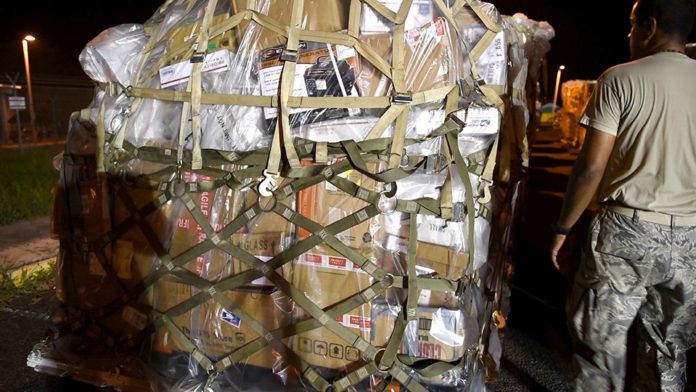 Story by Staff Sgt. Angel Oquendo
156th Airlift Wing
In the aftermath of Hurricane Maria, many residents of Puerto Rico look for normalcy, and one clear sign of things getting back to normal, is having their mail delivered. The storm aftermath and the lack of power created issues with logistics and the ability to transport the influx of care packages and donations being sent, so the Air National Guard, stepped up to help deliver the mail.
A C-17 aircraft from the Tennessee ANG's 164th Airlift Wing recently arrived at Muñiz ANG Base in Carolina, Puerto Rico with 18 pallets of mail shipped to the Caribbean island still in recovery. The average volume of mail to the island has quadrupled with a large influx of care packages and relief items being sent from around the world to support the 3.4 million U.S. citizens here. Everything from generators, food, water, clothing, batteries to regular letters are being sent.
Ms. Darlene Reid-DeMeo, a spokesperson for the United States Postal Service, says the assist from the ANG is important and timely "As our nation continues to generate unprecedented volumes of packages for the hurricane ravaged area, the Postal Service was in need of an added boost to support moving mail from the mainland to our processing hubs in Puerto Rico. Your airlift of pallets of mail helped to advance thousands of packages headed to post offices across Puerto Rico and the Virgin Islands."
Upon arrival of the mail pallets to Muñiz, Airmen from Logistics Readiness Squadrons representing Airlift Wings from across the country, who are currently deployed to Puerto Rico, began unloading the plane. "We don't usually see cargo like this, we're used to packing parachutes." said SMSgt Robert Garrett, an Aerial Porter from Nevada ANG's 152nd Airlift Wing. "We're proud to be here in Puerto Rico and be a part of the recovery. Here's a case where we're not supporting war, we're supporting good."
After unloading the mail from the military aircraft and moving to a staging area, the pallets were unwrapped and loaded onto multiple eighteen-wheelers making trips back and forth to USPS processing hubs in Puerto Rico. Throughout the night, the non-stop sounds of forklifts whizzing by, the beeping of horns indicating safety precautions and Aerial Porters shouting instructions to their fellow Airmen seemed more like a well-choreographed Broadway play than a military operation after a catastrophic hurricane. Uniformed men and women from Nevada's 152nd Airlift Wing, Wisconsin's 128th Refueling Wing, Connecticut's 103rd Airlift Wing, Alaska's 176th Airlift Wing and Puerto Rico's very own 156th Airlift Wing were all members of tonight's cast of performers.
While this isn't the first time ANG delivers for the USPS, this time was out of the ordinary. "Many postal employees have proudly served with you in responding to communities in crisis, over the years and to this day. While Hurricane Maria was no different for the Air National Guard, it was a bit different for us:" says Reid-DeMeo, "Your response put a positive stamp on the Postal Service's mission to deliver. We thank the Air National Guard for your partnership and your first class support."
The final pallet of mail is loaded onto the last semi just as the sun begins to rise. Forklifts have stopped moving, no more beeps, and no more instructions. After a long night and a flurry of activity for more than seven hours straight, there's now an unfamiliar silence in the staging area. A collective sense of exhaustion and pride is on the faces of the Airmen as tonight's operation is complete. They walk away knowing tomorrow will be an encore performance by the Air National Guard Aerial Porters, this time for a different customer, on a different cargo. Still, thanks to this recent operation, thousands of Puerto Rico residents will get a small part of normalcy back into their daily life now that the mail will reach its destination.
More Photos