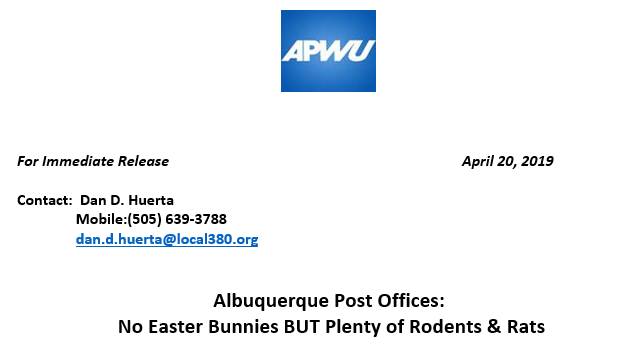 Albuquerque Post Offices have no Easter bunnies to deliver but many of its post offices have rodents, scorpions and rats. Most recently, on March 26, 2019 a rat jumped upon an employee at the Richard Pino Station while he was delivering mail into the post office boxes on the premise. A supervisor investigated the incident and as she opened a drawer in the area, another rat jumped out, causing the supervisor to scream.
Dan D. Huerta, Director of Education & Organization for the APWU Local 380 states, "Presently, there are not enough custodians to clean all the individual post offices throughout Albuquerque. In January of 2018, two (2) rats fell from the ceiling at the Five Points Post Office. One rat fell on a customer's shoulder and the other rat scampered across the sales counter. In the summer of 2018, a 10" giant vinegaroon scorpion was captured at the Foothills Station and numerous bats were flying throughout the Main Post Office in Albuquerque. Just three (3) months ago, around January 18, 2019, a rat scampered across the floor at the Academy Station.
The APWU/Albuquerque Local 380 has filed additional OSHA complaints regarding the numerous rat incidents throughout the Albuquerque postal facilities as it is concerned with the possible outbreak of hantavirus due to rat urine, feces and saliva.
Huerta further states, "The USPS District Manager was in Albuquerque to investigate the March 26th rodent incident. Just how long is this cover-up going to continue? How long are the custodial staffing and managerial incompetence issues going to continue? We need a congressional intervention."
Post Offices throughout New Mexico continue to suffer the brunt of neglect and severe understaffing. The APWU Local 380 continues to work with our Senate and Congressional representatives as well as the Governor's Office to improve unsanitary facility conditions as well as "customer service" for all New Mexicans. The people of our state deserve "excellence and not mediocrity" in postal products and services.
The APWU represents more than 200,000 USPS employees and retirees, and nearly 2,000 private-sector mail workers. The APWU is committed to Customer Service.
SOURCE:
Dan D. Huerta
Director of Education & Organization
Step 1 & 2 Designee / Arbitration Advocate
APWU Local 380