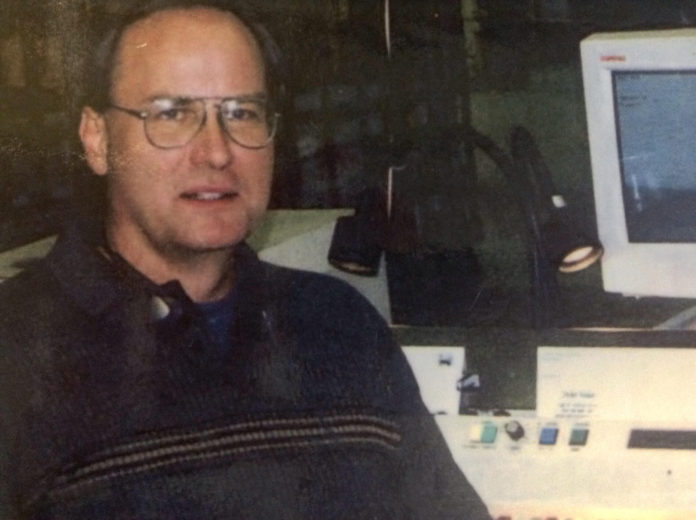 Geoff Sturtevant has been driving for UPS (not USPS) and voraciously consuming audiobooks for 16 years. He won the 2018 ABR LISTENERS CHOICE AWARD for best humor entry for his audiobook production of Occupational Hazards: The Blue-Collar Omnibus. He writes about the absurd, the macabre, and the general strangeness of the human experience. The book is quite amusing, and different. There's mystery, suspense, satire, scifi, you name it. He's the James Patterson of humor: inventive, offbeat, and able to dole out even gallows humor effects in ever rising insight. The opening story is sheer redneck fun, told with a believable accent on audio. He also narrates some of the stories. A brief interview below.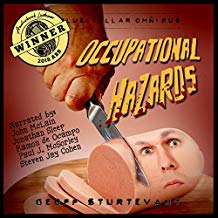 Q) How did you start writing?
A) I started writing mostly to make my mom laugh. I'd spend two or three weeks writing a novelette just to invite her over, hand her a manuscript, and just sit in the other room listening to her laugh. There's something about making a 70 year-old lady laugh at what she's probably not supposed to laugh at that's very gratifying. Craft is more important to me than being funny, but I love getting laughs most of all.
Q) Why this book, and why multiple narrators on the audio version?
A) I put together Occupational Hazards with the audiobook specifically in mind. I'm a huge audiobook fan, and I reached out to a bunch of my personal favorite narrators to help me produce it. The response has been positive, and the narrators had a lot to do with that.
Q) Views on morality arise in your writing. God given or human choice?
A) I think morality is both God-given and based on choices. New cultural values are embraced, and God-given morals are ignored. People are complicated creatures, and no one reason is responsible for anyone's particular values. Both of my daughters, for example, decided as soon as they understood meat came from animals, that they didn't want to eat meat. It still surprises me that this seemed to be their default moral choice. Maybe they'll un-learn this one, maybe not. I do hope to teach them other ones I consider valuable, but society is steadily forgetting.
Q) Funny you should mention meat. I've interviewed authors on both sides of that issue, too. Meatonomics versus The Big Fat Surprise. Dr. Preston Estep at Harvard takes another view in The Mindspan Diet, showing that iron in meat and supplemental iron added to flours in America cause Alzheimers in over age 50 adults. I forget who the other one I interviewed…oh, right. Kelly Preston. Tell us about your story The Relativist.
A) In that story, which on the surface is a really ridiculous, the underlying moral message/question is: if you've committed to ethical relativism, is it possible to hold anything sacred? The story is totally surreal, but it constantly puts cultural values at odds with each other; from quirky culinary differences to all-out good vs. evil. Moral values is a tough subject itself, but it's good for writing fiction. You don't necessarily need the answers, only the conflict.
Q) Takeaway from your book?
A) The reason I call this "Blue-Collar fiction" is that I wrote it for guys like me, who work hard, and like to be able to laugh at whatever they think is funny. Nobody who drives a truck for a living is concerned with political correctness. Since those are the people I relate to, I like to use work-oriented scenarios and regular-guy characters, and write the kind of material that amuses guys like us.
Also, who doesn't like beer? Okay, many don't. Did you know beer is actually better for you than soda? That's another story, found in "Salt Sugar Fat" by Michael Moss. Back to beer. BARREL AGED STOUT AND SELLING OUT is about Goose Island, a family-owned Chicago brewpub that became one of the most inventive breweries in the world. In the age of cheap bland beers, John Hall and his son brought European flavors to America, distributed in two dozen states, and became an American craft beer success story. Then, in 2011 they sold to Anheuser-Busch, maker of Budweiser, the least craft-like beer imaginable. (Yes, it's "the king of beers" in sales.) Their sale made national news, and caused a backlash from Chicagoans and beer fanatics across the country as the discussion escalated into "an intellectual craft beer war." Anheuser-Busch then bought four other craft breweries, and from among the outcry rises a question that author Josh Noel addresses through personal anecdotes from industry leaders: how should a brewery grow? Narrated by Charles Constant. Fascinating listening from a Chicago Tribune beer and travel writer.
(Jonathan is author of Lottery Island from Audible/iTunes, a Powerball action drama based on a true story. A former USPS employee, he has written for trucking magazines, Cracker Barrel stores, and XM radio in the past.)