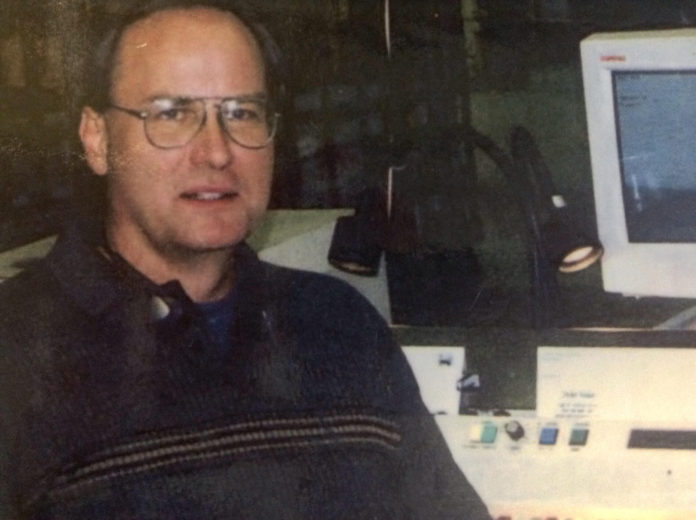 Let's call it Clive Cussler Day. June 1, 2018. June is also Audiobook Month, and all of the Cussler novels are on audio. Many are set in the summer on the ocean. June 1 is also release day of my novel Lottery Island on audio, an adventure based on the true story of John Caldwell, developer of Palm Island in the Grenadines. John was a Cussler fan, and had many real sea adventures of his own, some recorded in the classic sailing adventure "Desperate Voyage." Like Dirk Pitt, he fought off renegades that came over to take his island in a coup attempt, and he also let Marines stage their helicopters during the Grenada invasion. His true story inspired mine, ("Survivor meets Lethal Weapon"), after I wrote an article on him there for Cruising World (Oct. 1990 issue.) Clive Cussler, of course, is the New York Times bestselling author of more than seventy books in five bestselling series, including Dirk Pitt, NUMA Files, Oregon Files, Isaac Bell, and Sam and Remi Fargo series. Many of his novels have made the #1 spot of New York Times bestsellers. His life nearly parallels that of his hero, Dirk Pitt. Whether searching for lost aircraft or leading expeditions to find famous shipwrecks, he and his NUMA crew of volunteers (yes, NUMA actually exists) have discovered more than sixty lost ships of historic significance, including the long-lost Confederate submarine, Hunley, which was raised in 2000 with much press publicity. Another significant date is when Clive endorsed my own novel "Postmarked for Death" in small press hardcover, which now has a new production on Audible/iTunes. At the time, he called the book "a class performance, powerful and accomplished…mystery at its best." The endorsement didn't help me because the publisher didn't advertise, and then went belly up like a fish in a whirlpool, as did the Frank Muller recording! Spear Moby Dick and reel him in this time? Only with your help. (Order on Audible or iTunes in audiobook or ebook format, and get another ebook or audiobook free. Including Lottery Island. Or Verse Visa. Order Lottery Island and get Postmarked for Death. (Contact email below. How's that for a win/win?)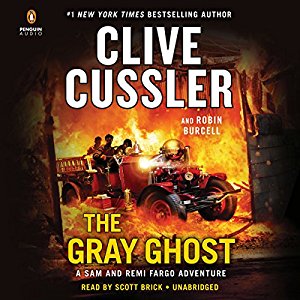 THE GRAY GHOST by Clive Cussler: his latest. The search for a legendary automobile threatens the careers and lives of husband-and-wife team Sam and Remi Fargo in this thrilling new adventure in Clive Cussler's bestselling series. In 1906, a groundbreaking Rolls-Royce prototype known as the Gray Ghost vanishes from the streets of Manchester, England, and it is only the lucky intervention of an American detective named Isaac Bell that prevents it from being lost forever. Not even he can save the good name of Marcus Peyton, however, the man wrongly blamed for the theft, and more than a hundred years later, it is his grandson who turns to Sam and Remi Fargo to help prove his grandfather's innocence. But there is even more at stake than any of them know. For the car has vanished again, and in it is an object so rare that it has the capacity to change lives. Men with everything to gain and a great deal to lose have a desperate plan to find it–and if anybody gets in their way? They have a plan for that, too. Narrated by Scott Brick, whom I have interviewed, and met at the Audie awards. Scott is the busiest voice actor in the business, and winner of multiple awards. Co-author of The Gray Ghost is Robin Burcell, who spent nearly three decades working in California law enforcement as a police officer, detective, hostage negotiator, and FBI-trained forensic artist. She is the author of ten novels.
In a previous Cussler title, TYPHOON FURY, Juan Cabrillo is hired to search for a collection of paintings worth half a billion dollars. The crew of the Oregon soon find themselves in much deeper waters. The vicious leader of a Filipino insurgency is not only using them to finance his attacks, he has stumbled upon one of the most lethal secrets of World War II: a Japanese-developed drug, designed, but never used, to turn soldiers into super-warriors. To stop him, the Oregon must not only take on the rebel commander, but a South African mercenary intent on getting his own hands on the drug, a massive swarm of torpedo drones targeting the U.S. Navy, an approaching megastorm—and, just possibly, a war that could envelop the entire Asian continent. Much fun. Co-writer Boyd Morrison is author of THE VAULT and THE ARK, plus co-author of other Cussler titles such as SHADOW TYRANTS, THE EMPEROR'S REVENGE, and PIRANHA. H is also an actor and engineer who started his career working on the NASA space station project. After earning a PhD in engineering from Virginia Tech, he used his training to develop US patents for various companies as well as manage video game testing for the Xbox division of Microsoft. He lives in Seattle.
Detective Isaac Bell is also featured in THE GANGSTER, a 2016 thrilling novel set in 1906 in New York City. The Italian crime group known as the Black Hand is on a spree: kidnapping, extortion, arson. Bell and the Van Dorn agency are hired to form a special "Black Hand Squad," but the gangsters appear to be everywhere—so much so that Bell begins to wonder if there are imitators, criminals using the name for the terror effect. And then the murders begin, each one of a man more powerful than the last, and as Bell discovers, to his dismay, the ultimate target may be the most powerful man of all. This is an unusual subject and time period for Cussler and co-author Justin Scott, well read (as usual) by Scott Brick. Co-author Justin Scott is author of the Ben Abbott mystery series, and also writes under the pen name Paul Garrison. His Cussler co-authored titles are THE WRECKER, THE BOOTLEGGER, THE STRIKER, THE THIEF, THE SPY, THE RACE, THE CUTTHROAT, and THE ASSASSIN. Whew! Roll all of them together, and you could win any Banana Republic election. Three of those titles describe the character of Frolonzo in Lottery Island. Guess which ones. (LOL.) Trump tried to buy property on Palm, but John declined, ironically saying that "every time my wife and I say hello, that's a board meeting." Opening the time capsule, my interview of Cussler dates from 2004. My interview of Caldwell for several travel magazine articles (like the character of Jude Johnstone) came in 1989, a couple years after I began working at the USPS. It was same time as my teleplay Ghostly Mozart was produced with all volunteer talent. The original publication of Postmarked was 1996. See how it call comes together? Back to the Future from the Past! Clive Cussler and his crew of volunteers have discovered more than 60 historically significant underwater wreck sites. Owner of a fleet of classic cars, Clive divides his time between Colorado and Arizona. Among his other books are RAISE THE TITANIC, GHOST SHIP, SAHARA, NIGHTHAWK, SACRED STONE, DEVIL'S GATE, and THE ROMANOV RANSOM…some written alone, some with his son Dirk, too.
Interview with Clive Cussler
JONATHAN LOWE: You have a degree in maritime history, yet you worked in advertising, then in a dive shop on a lark, where you started writing. This was what, the mid-60s?
CLIVE CUSSLER: Yes, that would have been the mid-60s. But I got the degree, though, in 1999 or 2000. Sometime around then.
JL: How long had you been diving before NUMA?
CC: Started diving when I was in the Air Force. We were in Hickam Field in Hawaii for a while in 1951, and my friend Don Spencer and I sent for a dive tank and regulator from Cousteau in France, who'd started manufacturing them. I think we might have had the first tank in Hawaii, and I remember we went into the hanger and filled it up with a couple hundred pounds of stale air out of a compressor, and just ran into the water. So I would have started diving in 51.
JL: Finding lost shipwrecks isn't easy, is it?
CC: Oh, no. Sometimes you get lucky, but I would say most of the time it's difficult. The ghost ship Marie Celeste, we found that in the first hour. The Civil War submarine Hunley took me fifteen years.
JL: Is it the location that makes it difficult? Do the wrecks shift or drift?
CC: No, it's just that the records aren't good. I always give the example that, say, a plane crashed in your neighborhood. . . you could come back in two hundred years to find that site, but of course everything has changed, and you don't know where to begin. Maybe they gave you a street, but maybe the streets not there. And they didn't say it crashed two hundred yards from the old rock, you know? So you can see how difficult it is to find the exact spot. That's the same way it is with shipwrecks. Nobody puts a big marker up and says here it is. So when you come by later, there's no GPS coordinates.
JL: Like in the story The Gold Bug by Poe, where they drop the line through the skull to find the treasure.
CC: Yes, but even then they had a ball park.
JL: How many expeditions have you mounted by now?
CC: Oh my, there must be a hundred or more.
JL: The two Sea Hunters books outline some amazing successes, like the Hunley, Carpathia, Marie Celeste. Is there a ship still out there that beckons you, though, or still nags at you?
CC: For sure. John Paul Jones, the Bon Homme Richard. I tried for that four times, haven't found it yet.
JL: Where did that sink?
CC: In the North Sea off Yorkshire.
JL: How goes SEA HUNTERS TV series? Will it air here?
CC: I don't know. It's under National Geographic, and airs internationally. What's so funny with Geographic, I narrate the program overseas, but here they run a few of them under Mysteries of the Sea or something, and I'm cut out of it. (laughs)
JL: So you don't know what's going on?
CC: Well, somebody told me, and I don't know how true it is, but they didn't want to upset Bob Ballard, who found the Titanic.
JL: Your novels have been wildly successful, I think, due as much to the research behind them as the pacing and characters. Are you doing research for some lost shipwreck when it occurs to you that Dirk Pitt might wade in?
CC: Not really. I haven't really combined the two. I had Pitt looking for a Pharaohs barge in the Nile one time, but we really haven't crossed paths. I don't know why. I think it's just because the storyline doesn't work as far as following anything I've done.
JL: Are there any more Pitt adventures in the works?
CC: Yes, I'm about two thirds through the next one.
JL: Really? I thought you were just continuing with Kurt Austin.
CC: No, those are just spinoff series. I come up with most of the plotting and they'll start the writing, and I'll edit, that sort of thing.
JL: So you switch off with Craig Dirgo and others.
CC: Right. Together we just finished a fiction book which has nothing to do with NUMA or Pitt or anything. In one book, Flood Tide, I had this ship that looked like an old beat up tramp steamer, had all the exotic gear, and people who ran it were like corporate mercenaries, they go around the world, like a Mission Impossible plot.
JL: Where did the name Dirk Pitt come from?
CC: My son's name. He was six months old when I started writing. His name is Dirk, and I used it for fun, really. I was looking through an encyclopedia about the British prime ministers during the Revolutionary war, Pitt the younger and Pitt the elder. So I thought, well, that works, because I wanted a one syllable name.
JL: I was thinking, you know, like one letter less than James Bond, and easier to type than Brandon Tartikoff or something.
CC: (laughs) Well, that's it. It's easier to say Pitt jumped over the wall than that. I think that's why Fleming wanted a simple name. James Bond. There was an ornithologist by that name too.
JL: What does your writing schedule look like these days? Do you work nonstop on a project?
CC: Pretty much, but I get so many interruptions. I mean, an expedition, or I have to go out to L.A. to fight over the screenplay or the movie. Or I have to speak here. There's always something. But I try to work nine to six. Some nights now too.
JL: You know what would be great is a full cast and sound audiobook of a Pitt or Austin book.
CC: Yes, it would.
JL: Do you ever get fan mail from people about your audiobooks?
CC: Yes, I do.
JL: Have you ever been on the Tonight Show? Leno's a car buff.
CC: No, I never have, but I remember I talked to him at Pebble Beach one time and I asked him: "How come you don't have more cars on the show?" And he said he had Carroll Shelby on one time, and the audience just had no connection with him. So producers got after him, and other than a brief bit with him in a car now and then, that's about it.
JL: Who are your own favorite authors?
CC: When I started out the one I leaned on the most was Alister McLean. And then Hammond Innes, in his eighties now and still writing. I like Nelson DeMille. But I don't have time to read. I had lunch one time with James Michener, and just for fun I said, "Have you read any good books lately, Jim?" And he laughed and said "I don't read," then clarified it by saying he doesn't read fiction because he's always working. I gave a quote endorsement for The Hunt for Red October for Clancy.
JL: Really? Tom Clancy? That's amazing.
CC: If you ever find an original, those things sell for about a thousand bucks. And then there's Stephen Coonts, for Flight of the Intruder. Tells you how long I've been around, doesn't it?
(Footnote: wonder if Clive would consider going on Jay Leno's new TV show Jay Leno's Garage, now that Jay is retired from The Tonight Show? Just a thought. The plot of Postmarked for Death could be taken from today's headlines. A Unabomber type clerk in the Tucson, Arizona post office attacks illegal immigration offices—and his own post office, to slow processing of food stamp credit cards. Calvin's patsy is chained in a deserted Titan missile base in the desert while he continues to work and mail letter bombs. While the police search for the wrong man, a rookie postal inspector begins to suspect something. Both points of view given, making it a psychological thriller, more of a "why-dunnit" than a "who-dunnit." John Lutz (Single White Female): "A real page turner. Read this one, and dropping a letter in the mailbox will never be the same." In real life, one postal killer used a Ninja sword to kill. Postal shootings include Edmond, Oklahoma (15 dead; a .45 cal. semi-automatic), Royal Oak, Michigan (5 dead), Goleta, California (6 dead), and in 2017 two postal shootings: San Francisco (3 dead), and Columbus, Ohio (2 dead.) No matter what political stance one takes, it is important to understand the twisted thought processes of killers in order to be more effective in preventing violence. In most postal shootings, a grievance against high stress management was cited. In school shootings the perpetrators are typically young males with no criminal record using a parent's weapons, depressed, and/or seeking revenge for bullying or ridicule/exclusion. Or at least that's what the research shows. Comments are disabled here due to spam, but you may contact me at BurjReview(at)Gmail.com.)