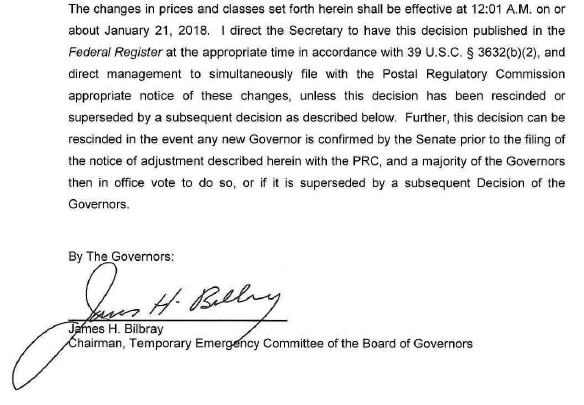 The last remaining Postal Governor James Bilbray signed several POST DATED orders in November/December 2016 to raise postal rate prices in January 2018, because any price increases must be approved by the postal governors. Currently there are no postal governors because the Senate has not confirmed any new governors in a couple of years.
The following is a recent submission POST DATED to October 6th, 2017 but signed back in December 2016. The governor's decision establishes price changes for various postal services effective January 21, 2018. The rate increases were officially announced by the USPS on October 6th, 2017, but the planned hikes were known in detail since at least December 2016.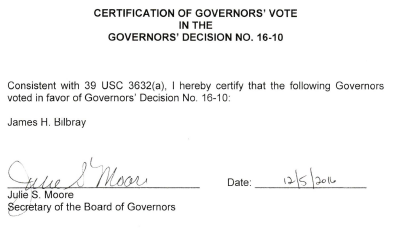 See: NOTICE OF CHANGES IN RATES OF GENERAL APPLICABILITY FOR COMPETITIVE PRODUCTS ESTABLISHED IN GOVERNORS' DECISION NOS. 16-8 AND 16-10 (October 6, 2017) (PDF)
A NOTICE OF MARKET DOMINANT PRICE ADJUSTMENT (PDF) was adopted by the "Governor's" on November 14, 2016.
The "Dead Hand" clause is certainly legal and no intent of wrongdoing is implied. In this case, the documents were signed by a "trustee" of the Postal Service acting in the agency's best interests under the assumption that no new governors would be appointed. In fact, there is wording in the documents that could rescind the decisions if new governors are appointed. Moreover, the Postal Service deserves credit for planning at least a year ahead.
However, the post dated documents may not sit well with mailers impacted by rate decisions made in 2016 that affect rates in 2018. The post dated documents also highlight the precarious situation that has left the USPS with no governors at a critical time.