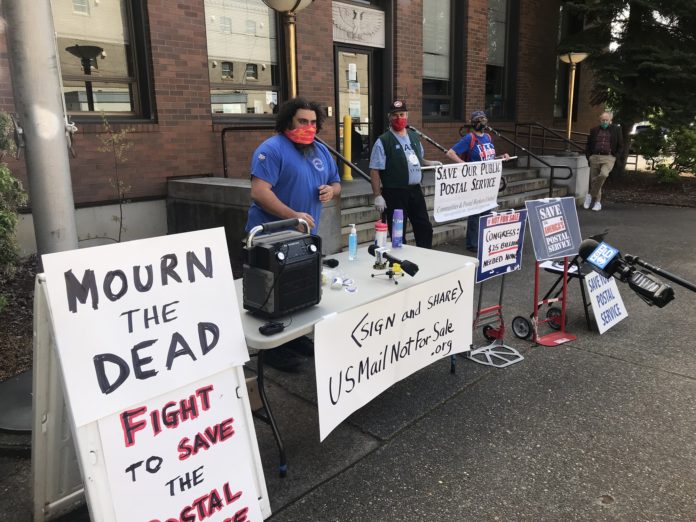 Immediate Release
April 28, 2020
contact: Jamie Partridge, 503-752-5112
Communities and Postal Workers United
Memorial mourns fallen postal workers and calls to save the service
A small gathering of clergy, community and postal union leaders memorialized postal workers who have died from Covid-19 outside the East Portland post office this morning. The Reverend John Schwiebert led the ceremony: "We pray this morning for the forty-five workers who have lost their lives while performing the essential services we count on every day." Willie Groshell, president of the Oregon State Association of Letter Carriers, continued: "Every single day I deliver medicine to veterans, every single day I am the only point of contact for some of my customers, and it blows my mind that in this perilous moment the postal service is being denied assistance by the federal government."
Governor Kate Brown, Senator Ron Wyden and Representative Earl Blumenauer sent messages of appreciation for postal workers and called on Congress to appropriate emergency funds to sustain the USPS, which has been drastically impacted by the pandemic and subsequent economic crash. Daniel Cortez and Joe Cogan, leaders of the local American Postal Workers Union, echoed these sentiments and called on the public to rally behind their postal service.
April 28th is Workers Memorial Day, a day when the labor movement mourns the workers who have died on the job in the previous year and vows to fight on for health and safety at work. This year is especially painful for frontline, essential workers like postal workers. 45 have died from Covid-19 in the last month. 1,800 are confirmed with the disease. 8,000 are in quarantine.
Oregon has not been spared, with postal workers, and their families, around the state experiencing quarantine and infections. Postal workers, across the country, continue to struggle for Personal Protective Equipment, social distancing, testing, paid leave, and hazard pay. In New York City, where 15 have died of Covid-19, some postal facilities have closed. In some NYC neighborhoods, the mail is not being delivered. Across the country, some postal facilities are experiencing 50-75% loss of personnel due to infection and quarantine.
At the same time, the Covid-19 economic collapse has caused a 30% drop in mail volume with an expected 50% drop by summer. Postal revenues are falling precipitously. The Postmaster General predicts that the USPS will run out of money by September. The postal service needs to be unburdened from the catastrophic pre-funding requirement and must receive a big infusion of funds to continue serving the American people, as it has since 1775.
From medications to stimulus checks, from census forms to ballots, from medical supplies (including test kits and the coming vaccine) to online orders, the postal service is indispensable to the American people, especially veterans, seniors, small businesses, and those in rural areas.
The Postal Board of Governors, the postal service's bi-partisan governing body, has called on Congress to appropriate $25 billion immediately and sufficient additional funds over time to sustain the service. Yet, the Trump administration has threatened to veto any stimulus package that provides genuine support to the postal service. This administration is on record pushing for privatization of the USPS, which would result in big profits for the private owners, but higher prices and less service for the public. Allowing the USPS to go broke would be a set-up to sell it off.
For more information, go to USMailNotForSale.org
(SOURCE: Communities and Postal Workers United)