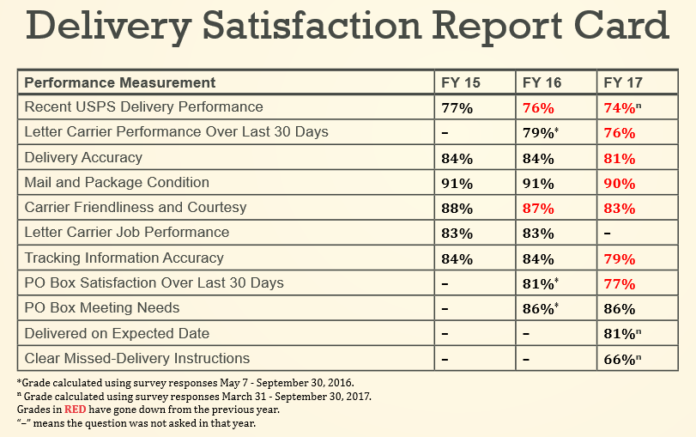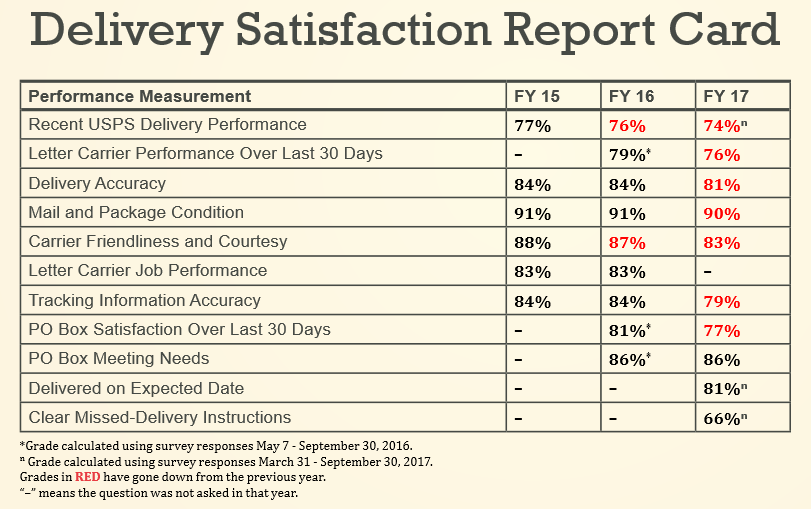 USPS delivery satisfaction numbers are trending downward according to the USPS OIG Spring 2018 Semiannual Report to Congress released at the end of May 2018. On page 15 of the report, there is a Delivery Satisfaction Report Card that details USPS customer satisfaction with the delivery of mail for the last three fiscal years (15, 16, 17). The report shows declining numbers for customer satisfaction in all areas except PO Box Meeting Needs. (Complete data was not available for two other categories.) Delivery Accuracy was rated at 81% for FY 17, down from 84% in FY 15. Customers are also finding their delivery personnel to be a little less friendly or courteous, with scores in that area dropping to 83% in FY 17 from 88% in FY 15. Overall, Recent USPS Delivery Performance scores are down to 74% in FY 17 from 77% in FY 15.
The USPS OIG analysis highlighted three particular groups of customers who are less satisfied than their counterparts: small and medium businesses, centralized delivery customers, and people aged 25 to 34. When prompted for ways USPS could improve delivery, customers most often wrote about misdelivery, inconsistent delivery times, delivery location, and damage to mail and packages, according to the report.
The Postal Service measured customer satisfaction with delivery through a national survey sent to residences and also small and medium businesses. The OIG analyzed the responses for the report card, finding that roughly three in four customers are satisfied.
The USPS has come under mounting pressure in recent years. Factors that might be contributing to the sliding scores include a retirement prefunding mandate that has forced consolidations of the distribution network, the growth of the very labor-intensive package delivery segment and difficulties in recruiting and retaining qualified new employees in a competitive labor market.