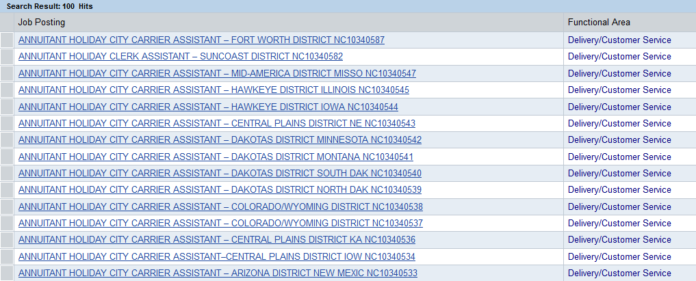 The U.S. Postal Service is seeking retired USPS employees in transportation, clerk and carrier functional areas to help out in the 2019 holiday season. The "Annuitant CCAs" will hold temporary appointments during the period 11/30/2019 – 12/27/2019, not to exceed 28 days. Below is an example job posting for an Annuitant Holiday City Carrier position in the Forth Worth District:
###
United States Postal Service Job Posting 10340587
Branch: Fort Worth District Job Posting Period 08/12/2019 – 09/02/2019
Job Title: ANNUITANT HOLIDAY CITY CARRIER ASSISTANT
Positions may be at various locations within this District. Please list any specific locations where you are interested in working.
CCAs may be required to work any day of the week, including weekends and holidays as scheduled.
Annuitant CCAs hold temporary appointments during the period 11/30/2019 – 12/27/2019 not to exceed 28 days.
DRIVING REQUIRED: Annuitants must have a valid state driver's license, a safe driving record, and at least two years of unsupervised experience driving passenger cars or larger. The driving must have taken place in the U.S. or its possessions or territories or in U.S. military installations worldwide.
SALARY RANGE: $17.29 per hour paid bi-weekly.
Persons Eligible to Apply: This is a noncompetitive appointment open to United States Postal Service annuitants only. Annuitants who retired more than 90 days prior to the effective date of appointment will be required to complete a drug test and give consent for a criminal background check and fingerprints. Annuitants must apply online at www.usps.com/employment to be considered for this noncompetitive employment opportunity. You must have a valid email address to apply as communication regarding employment opportunities and screening will be conveyed by email.
###
Search "annuitants" in the keyword search box at https://wp1-ext.usps.gov/sap/bc/webdynpro/sap/hrrcf_a_unreg_job_search# for all listings.