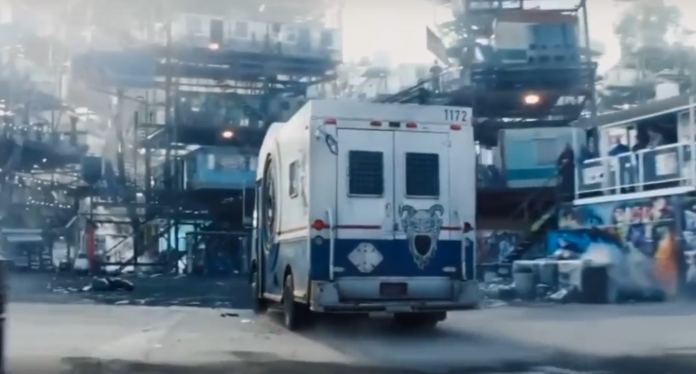 The movie Ready Player One, directed by Steven Spielberg, featured a futuristic mail truck designed to deploy delivery drones.
The United States Postal Service (USPS) is investigating the feasibility of utilizing unmanned aircraft systems (UAS) or drones as delivery vehicles for mail as an integrated part of its vehicle delivery fleet, as well as to provide image and other data collection services, according to a FedBizOpps notice posted on September 23rd.
Specifically, the USPS is seeking information from drone operators and developers interested in providing aircraft and aircraft operations for delivery of mail and to collect geodetic/spatial data to improve drone performance. The drones will be regulated by Federal Aviation Administration (FAA) rules and will support Postal Service missions, including (but not limited to):
Long Driveway Delivery (drone launches from vehicle, makes delivery, returns to the vehicle while carrier continues their route)
Remote/Difficult Delivery Points (i.e. rugged terrain, small islands)
Ride-Sharing Model (customers use application to access USPS drone fleet for business to
customer delivery)
Infrastructure as a Service – Drone service providers leverage USPS Post Office and vehicle
coverage, launching, charging, data, etc. (e.g., farm or power Line inspection)
Program objectives include:
A. Secure Control Data Communication protocols
B. Human and Machine Interaction (HMI) and maps
C. UAS Detect and Avoidance sensors
D. Collision Recovery algorithms
E. Loss Link performance to UAS recovery solutions
F. Hardware Design and Life Cycle Cost for 5 year support model
G. UAS reaction to midflight malfunctions, such as damaged or broken propellers; a battery or electrical component failure; or a total system failure, etc.
H. UAS reaction to midflight payload shift, creating an asymmetric loading condition.
I. UAS reaction to forecast and/or unexpected weather conditions, such as a wind gust and sudden rain, etc.
J. UAS navigation to avoid objects such as power lines, tree branches, pedestrians, and other UAS/aircraft, etc.
K. Parcel Retention Mechanism (PRM) and delivery method
L. Identify options on how the parcel will be loaded and/or picked-up, secured and retained during flight so the payload will not be dislodged by unexpected events.
M. Identify options on how the parcel may be delivered; for example, a low altitude drop, hover/winch delivery, complete touchdown and release, a parachute drop from altitude, etc.
N. Concept of Operations (ConOps) outline
O. Software Design
P. Course editing and management (Graphical Tools)
Q. Safety & Contingency Protocol development strategies
R. Human Machine Interaction (HMI) protocol from user/operator to delivery customer interaction with the UAS.
Intended Uses
This technology may be used on specific delivery routes that have high operational costs and could benefit from UAS performance. They will be operated in all FAA approved weather conditions found in the United States. UAS will be operated for a minimum of eight (8) continuous hours per day with exchangeable batteries, over hilly terrain, water, semi-improved roads, and, eventually, over city streets.
The UAS will make on average four flights and deliveries per day of mail and packages, but may have as many as three per operational hour; additionally stops will be made to collect data from specified locations as value is determined. The operator will load the UAS, turn the UAS on and off, perform preflight and weather checks and set a predetermined flight path for the UAS to fly. Once FAA authorizations are provided, the UAS will fly to a defined location to deliver the mail or package or collect data and return in reverse of the flight path to the defined UAS flight base of operations. It is anticipated that the battery will be replaced and recharged for the next delivery. The technology is intended to operate in a USPS mission with temperature ranges of -40 degrees to +140 degrees Fahrenheit with a relative humidity of 5% to 98%.
Companies interested in the program should submit their proposals by November 4th, 2019.