New this month are many new and riveting audiobook titles, including A COLUMN OF FIRE by Ken Follett, THE GOLDEN HOUSE by Salman Rushdie, and LITTLE FIRES EVERYWHERE by Celeste Ng, but my personal favorite listen was MOVING THE PALACE by Charif Majdalani. Set at the dawn of the twentieth century, it's about a young Lebanese adventurer who leaves the Levant to explore the wilds of Africa. He meets an eccentric English colonel in Sudan, and crosses paths with a compatriot who has dismantled a sumptuous palace in Tripoli to transport it across the continent via camel. The protagonist takes charge of a hoard of architectural fragments, ferrying the dismantled landmark through Sudan, Egypt and the Arabian Peninsula, attempting to return to his native Beirut. Along the way, he encounters skeptic sheikhs, suspicious tribal leaders, feasts, and pilgrims bound for Mecca…including Lawrence of Arabia. You'll learn much Middle East history along the way, and best of all it is narrated by Jonathan Davis, whom I've interviewed. Davis has done just about every imaginable genre for audio, from Star Wars titles to that small jewel of literary fiction LAST NIGHT AT THE LOBSTER (which was also one of Stephen King's favorite, and which few have discovered.) You are in for a treat because Davis is one of the few narrators able to submerge himself into any character with an ease you won't even notice (you'll be too busy listening.) The voice is key, and his is eminently listenable.
If you want to hear a great biography about beer, try Frances Stroh's BEER MONEY, read on audio by always engaging actress Erin Bennett. It concerns her memories as a privileged heir, going on shopping trips to London and New York. But that's just the beginning of the story. Established in Detroit in 1850, the Stroh Brewing Company later became the largest private beer fortune in America, a brand emblematic of the American dream itself while Stroh was coming of age. Net family worth, $700 million. But Detroit was crumbling, and their wealth and legacy was soon disappearing. Divorce, a drug bust, disputes, and scandals followed. Stroh's memoir reads like the show Empire, with beer instead of music.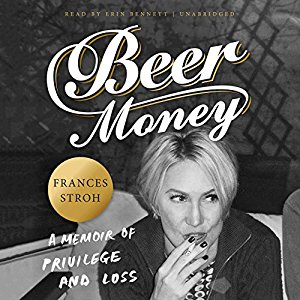 Next, spinoffs, sequels and prequels exist because people become enamored of things they already like. "We are conditioned to ignore things that are different or new," says the author of RIVETED: The Science of Why Jokes Make Us Laugh, Movies Make Us Cry, and Religion Makes Us Feel One With the Universe. People do not like change, and this leads to a host of side effects in our culture, including pseudo-scifi blaster battles with one-liners, or first person shooters, including the killing of cops and innocents in games like the Grand Theft Auto series. Billions of dollars are generated, but the net effect on society (and imagination) is negative. (As the work of Ray Bradbury demonstrates.) People end up reading less, and killing more time. Jim Davies explains why pattern recognition is so important, why attention spans are dropping, and how marketing influences us to fear things we shouldn't in order to manipulate our choices. A great analogy here is junk food: the taste rewards for sugar, fat, and salt are like crack cocaine, and just as difficult to quit. The result is disease, physical or mental, while drug costs to treat these diseases are "going viral." Meaning sky high. Forces work on us subconsciously, and we are not even aware of it. Narrated by Matthew Josdal, the audiobook draws on psychology, computer science, and biology to explain why we choose what we do, and why most of those choices are conditioned responses made by our emotional brains rather than via reason.
Finally, Ronald Kessler knows Palm Beach, the home of Trump's Maralago. Here's a throwback excerpt from my interview with him about his earlier book THE SEASON. He's a former Washington Post and WSJ reporter with many journalism awards. Other books (also on audio) include Inside the White House, The Bureau: The Secret History of the FBI, The Terrorist Watch, and Spy vs Spy.
Jonathan Lowe: Palm Beach, as exposed by your book, sounds like one big social club from which we mere mortals are excluded. Is it really true that the police stop gawkers at the bridge? Why are the super rich so enamored with the place?
Ronald Kessler: They are their own social club. Why should they mix with gawkers and tourists? They prefer to be with their own kind. People who think, talk, and act the way they do. Palm Beach has the greatest concentration of rich people in the world. With vigilant police who can sense outsiders, Palm Beach offers the perfect setting for the rich to enjoy themselves. To give themselves a sense of achievement, they exclude outsiders and impose a caste system on the 3.75 square mile island paradise. Almost like laboratory rats fed growth hormones, the 9800 residents of Palm Beach exhibit the most outlandish and exaggerated forms of human behavior.
Lowe: Did you find their odd behavior and rituals were competitive in nature, meaning they don't use balance sheets as a yardstick as much as we think they do?
Kessler: The super rich compete with balloon decorations and yacht lengths. Their net worths are always mysteries, either much higher or lower than what one is led to believe.
Lowe: Can you give an example of someone lying to you?
Kessler: One man, a former chairman of the International Red Cross Ball, told me he graduated from Harvard and won the Silver Cross, the Bronze Star, and the Purple Heart while serving in the Marines. He wears the medals when he attends the black-tie event, the pinnacle of the social season. It turned out he obtained his college degree through a correspondence school, and while he served in the Marines won no medals of any kind.
Lowe: What most surprised you about Palm Beach society?
Kessler: I wasn't prepared for the blatant anti-Semitism in the Old Guard. Then there was Gianna Lahainer, who told me her husband died during the middle of the season. Since she didn't want to take the time to hold a funeral for him, she had him embalmed and stored for forty days so she could hold a funeral for him after the season ended. "I wanted to go to the parties," Gianna said. "My new life was going on, why should I wait? I would miss the season."
Lowe: Any anecdotes about someone excluded from a posh party who thought he or she might be "in?"
Kessler: Many people essentially lobby to get invited to key parties by pressuring friends to speak on their behalf. But the greatest pressure is brought to bear on bank trust officers, who control much of the wealth. Trust fund babies, who live on inherited wealth, wake up late, go to their clubs, have a few drinks, and try to outsmart trust fund officers so they'll give them more money. Their walk in closets may be half the size of most people's homes, and their diamond rings may be worth millions, but they want more. One heir to an industrial fortune has homes in Palm Beach, New York, France, and Italy. He had a yellow Rolls Royce Corniche convertible but wanted a Ferrari as well. The trust department of his bank kept turning him down, so he bought the Ferrari with his American Express platinum card.
Lowe: Any Trump stories to relate?
Kessler: A Palm Beach caterer told me what happened when she mentioned to an heir that Ivana Trump, who lived in a $4.4 million home, needed a butler. "Ivana needs a butler? How about me?" the man said. The caterer said, "My God, you don't know how to be a butler." To which the man said, "What do you mean, I've had one all my life." The trust fund baby applied for the job and was hired. He donned a white jacket and white gloves for a party. Amongst the guests was his mother. He didn't stay long.
Lowe: Any churches in Palm Beach? If so, wouldn't it be nice to have a microphone in the confessional?
Kessler: There are churches, but no funeral parlors or cemeteries. No one wants to be reminded of his own mortality. Everyone is living a fantasy. As for confessions, I have to say that what amazes many readers of "The Season" is that it is based on recorded interviews. What one finds out is that the very rich are indeed very different from you and me.
Lowe: What did you think of George Plimpton's recording of your book?
Kessler: After hearing his rendition of "The Season," I feel I'm missing a lot of good audiobooks. His WASPish delivery was hysterical, and gave it another dimension.
(Former postal clerk Jonathan Lowe is an award winning writer who has published articles and stories in over 40 magazines, with both drama and fiction produced. A longtime reviewer and Audie award judge, he is author of Postmarked for Death (narrated by Frank Muller as Postal), Awakening Storm (narrated by Barrett Whitener), Fame Island (narrated by Kristoffer Tabori), The Methuselah Gene (read by Tim Lundeen), and The Miraculous Plot of Leiter & Lott (read by Paul Heitsch.) He lives in Tucson and Greenville SC.)