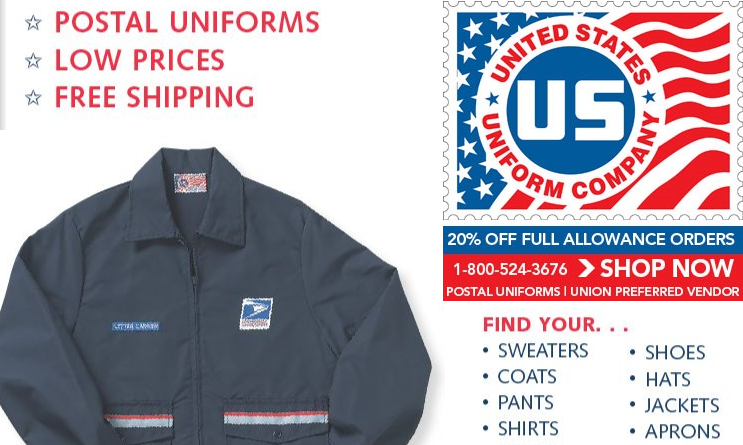 Postal Uniforms Directory
US Uniforms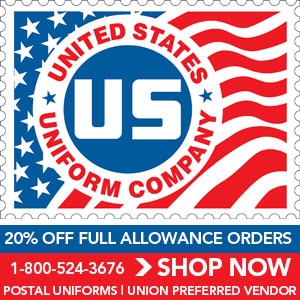 Low Prices – Wide Selection of Products – Free Priority Shipping – Serving the USPS since 1956.

Postal Uniform Allowances
Letter Carrier $420 (1st Year $517)
CCA $420 (After completing 90 work days or been employed for 120 calendar days.)
Motor Vehicle Driver $420 (1st Year $517)
Motor Vehicle Mechanic $205
Window Clerk $180 (1st Year $201)
Mail Handler A $83
Mail Handler B $162
Mail Handler C $205
Maintenance A $85
Maintenance B $162
Maintenance C $205
Once a CCA has completed 90 work days, or has been employed for 120 calendar days, the CCA will be provided with an annual uniform allowance equal to the amount provided to career carriers, as indicated above.
Citi Commercial Card for Uniform Allowances
1-800-287-5003

Postal Uniforms News
CCA UNIFORM PROGRAM UPDATE
By Michele the Uniform Girl, October 13th, 2013
The CCA uniform program certainly has had its trials and tribulations. From a vendor's viewpoint, this process of getting CCA's into uniforms has been very challenging. We have heard from a lot of very frustrated City Carrier Assistants who are having trouble getting their uniforms. Before delving into what the problems are, and more importantly what some of the possible solutions are, let me review some background on the program.
In early 2013, the new labor contract was set by the Das interest arbitration board. Under this NALC-USPS National Agreement that covers the years 2011 – 2016, CCA's are to get a $390 uniform allowance in 2013. Details can be found at the NALC website, specifically in M-01822 and M-01819.
The USPS decided that instead of issuing the Citibank Visa uniform allowance debit cards to these non- career employees, they were instead going to use a voucher program. I am not sure of the reason, but I heard that it was because of the expense of issuing the cards. I think if the USPS looked back and was able to quantify the time spent by the managers and OIC's doing the paperwork, including all the back and forth with the managers, CCA's and the uniform companies, they might reconsider this voucher method as being the most cost effective.
As the GM of Postal Uniform Discounters (www.postaluniformdiscounters.com), we are one of the leading providers of CCA uniforms and have some perspective on the program from the vendor's side and the CCA side (as we are constantly getting feedback). I have spoken with many of our competitors about the various issues and procedures, and it seems that most uniform companies will not ship the uniforms until they receive definite confirmation of payment. One of the reasons is the experience that the uniform companies had getting paid under the old TE uniform program. One of the larger vendors said that they wouldn't even participate in the CCA program as they were still owed money going back three years for the TE's. The main reason for not shipping without some type of payment information in hand (like a credit card number or confirmation that the manager will apply for a check to be issued) is the confusion among the management about how to pay these invoices. Although it seems to get better by the day, there is still way too much confusion out there about how the program works.
We normally can get an order out of here within a couple of days, but the CCA uniform orders present many challenges that we don't have with the regular career letter carrier orders that are paid by their USPS debit card. To get a better understanding, here is the procedure we (and I would guess, our competitors as well) have to go thru before we can ship an order:
Once we receive the voucher ("Letter of Authorization") and the order from a CCA, we create an order on our computer. After that, we fax the voucher and the order to the station, and we call to see if the fax has been received. Unfortunately, a lot of post offices do not answer their phones at all, or the phone is constantly busy, or the manager is not there that day, etc., etc. Sometimes we get lucky and we get on right away with a cooperative, informed manager. In that case, we are able to ship the uniforms within a day or two. But that is the exception. Usually we have to try calling again, and again, and again. Sometimes it takes us weeks before we get through. We leave messages, but our calls are rarely returned. We fax again, asking the OIC to give us a call, but once again, that is usually ineffective. We mail, often certified, the vouchers and invoices to the manager's attention asking them to give us a call, but, more often than not, get no response until we are able to reach them on the phone.
Once we get in touch with the manager, we are often able to get the process in motion. A couple of months ago, we were finding that most managers had no idea of how they were supposed to pay, but we are recently finding that more and more are now aware of the process. We are still educating many managers and often pass onto them what the form looks like and the USPS internal web address that they should go to for further explanation.
Other issues we are running into are limits on the managers credit cards, managers who don't have a credit card yet and don't know how to submit the proper forms to get one, managers who don't have a card and don't know how to submit the paperwork to get a check issued, the signing manager has moved and the new manager wants no part of the process, and that the dog ate the paperwork (just kidding)!
Now that I've spoken of problems, here are some solutions:
When submitting your order and voucher to a uniform vendor, try to get the issuing managers email address. This will help eliminate the phone and fax problem. And, yes, we have tried the mail, but we have found that the manager still doesn't call us back even after we write him a letter. So as contrary as using email seems to those involved with the health of the post office, (we insist on mailing all of our bills and receiving all of our bills by mail as our business is dependent on having uniformed postal employees), email seems to be the best way to communicate between the uniform vendors and the managers on this issue. Also, make a copy of the voucher and you can ask the uniform vendor to mail back a copy of your invoiced order. You can then take them to the manager yourself and request that they call the vendor with payment information. We often fax over the paperwork but when we call we are told, "I never got it." By hand delivering the paperwork yourself, this eliminates that reason or excuse. Call your uniform vendor right after taking the paperwork to the manager and let them know that it is now in hand. In our case, we would immediately follow that up with a phone call to that manager to discuss how and when they are going to pay for the uniforms. We think that by helping the company you ordered from get in touch with the manager, it will greatly increase your odds of getting your uniforms in a timely fashion.
So our apologies to all those CCA's whom we have not been able to put into uniform as quickly as they or we would like, but this has been made very difficult by the ins and outs of the program. We appreciate your patience, and even if you did not order from us, we welcome you to call or write us with any questions you may have about the program. We have spent a lot of time reading, reviewing, and talking about it, and think that is why Postal Uniform Discounters is the leader in CCA uniforms.
www.postaluniformdiscounters.com
1-800-733-1243
UNIFORM ALLOWANCE INCREASES FOR LETTER CARRIERS AND CCA's ALLOWANCE UPDATES
By Michele the Uniform Girl, June 18th, 2013
Although confusion still reigns in many areas, we are finally seeing some of the uniform allowance issues being settled. Under the new NALC – USPS contract that was announced in January of this year, the city carriers are supposed to get an increase to their postal uniform allowance and the newly created CCA "craft" are supposed to get matching allowances. But, up until a couple of weeks ago, it seems like everything was on "hold" or at best moving slowly. We are now seeing some real progress on both fronts. Before getting to the good news, I would like to recap what was negotiated in the new contract.
As in previous years, the letter carriers are to get uniform allowance increases starting with those who have had an anniversary since November 21, 2012 (last year). All carriers are to now receive $390 annually to purchase postal uniforms (with another raise coming in November 2013), and anyone who has already spent their $371 with an anniversary of 11/21/12 is to have had another $19 added to their accounts. We started to see the additional $19 being tacked on in early May, but to only a small percentage of carriers. We don't know how the USPS transfers the records to Citibank, but there seemed to be no rhyme or reason about who was getting it and who was not. But as the month progressed, we started to see everyone who was entitled to these additional funds finally receiving them. So if you have already spent your $371 uniform clothing allowance for the year and your anniversary date is on or after November 21, 2012, you should have another $19 to spend. You can check by calling Citibank at 1-800-287-5003. If you don't hear that the money is posted, ask a Citibank customer service representative if they know why. If you are not satisfied with their answer, we suggest contacting USPS Human Resources. If you are unable to get an answer from that department, I would think that your next option is to speak to your union representative. Although it is "only" $19, it is one of your negotiated benefits, the same as your days off, health and retirement benefits, and your salary.
If If you have a new anniversary coming up, you will now have $390 to spend. At first, Citibank will say that you only have $371 to spend, but as in years past, it typically takes Citibank/USPS about two weeks to update that information and post the additional $19 you should have to spend. Most postal uniform vendors will fill in the order for $390, and after getting the immediately available $371, will go back and ring in the remaining $19 when Citibank posts it. Let us know if you have any questions about this as we have quite a bit of experience and information dealing with the "ins and outs" of Citibank and the uniform allowance.
We are also seeing some movement on the uniform allowance for the CCA's. Unlike the TE's, who were only given a uniform allowance on the discretion of their managers, or contract carriers who may have had a tee shirt or USPS cap, the Board of Arbitration felt so strongly about the USPS having it's employees in uniform that they stipulated in the contract for the new classification of non-career employees, the CCA's, to receive an allowance equal to the career city letter carriers. Under this contract, "the CCA will be provided with an annual uniform allowance equal to the amount provided to career employees" (page 17). "When the CCA has completed 90 work days, or has been employed for 120 calendar days, whichever comes first", the allowance will be provided. Additionally, "time served as a Transitional Employee will count toward the 90/120 day requirement" (page 17). In other words, CCA's are to receive $390 for 2012-2013, with postal uniform allowance raises that match the career employee's raises in succeeding years. If, after their first year of working for the USPS, the CCA is not rehired for a second year appointment, these employees are supposed to return their uniforms to the USPS for disposal. The process of how to get the allotment to the CCA's has been negotiated between the NALC and the USPS (M-01819) on May 22. From that MOU: "When a CCA becomes eligible for a uniform allowance, funds must be approved through an eBuy submission by local management. After approval, a Letter of Authorization form must be completed and provided to the employee within 14 days of the eligibility date. The CCA takes the completed form to a USPS authorized vendor to purchase uniform items. The Letter of Authorization can be located on the Uniform Program website on the Blue Page under Labor Relations." "The licensed vendor creates an itemized invoice of the sale, provides a copy of the invoice to the CCA, and sends the original invoice for payment to the local manager identified on the Letter of Authorization. Upon receipt, the local manager certifies the invoice and pays the vendor using the office Smartpay card." Although this sounds clear and definitive, and a letter was sent to all Area Human Resources Managers (dated May 22), we are hearing all kinds of different stories as it seems that a lot of postmasters and managers are still not aware of the contract agreement or of this memo. We have heard of some managers telling their CCA's that they will get a quarterly allowance of $74.50 (as under the TE uniform program); others have been told that it is up to the manager's discretion whether they will get an allowance; and still others have heard that there will be no uniform allowance for the CCA's. Although we are seeing some orders coming in with the official Letter of Authorization, it seems in some areas of the country the management either is not aware or is not finding the time to give their CCA's their letter which allows them to purchase their uniforms. If you are a CCA and you now qualify for your Letter (completed 90 work days, or have been employed for 120 calendar days, whichever comes first), and your manager will not give it to you, perhaps you should speak to your union representative. We have heard that in one major city the NALC told the postmaster that they will file a grievance for every CCA in that area unless the letters were issued immediately. Within days, we are told, every CCA had their Letter.
Remember, Remember, the uniform allowance is a negotiated benefit. Think of it as part of your pay package. Would you let your employer short you $390 on your paycheck? Of course not, and neither should they deny you the uniform allowance.
As the situation is changing daily, feel free to call us at Postal Uniform Discounters (1-800-733-1243) or check out our website at www.postaluniformdiscounters.com for the latest updates. We will do our best to update you with current information.