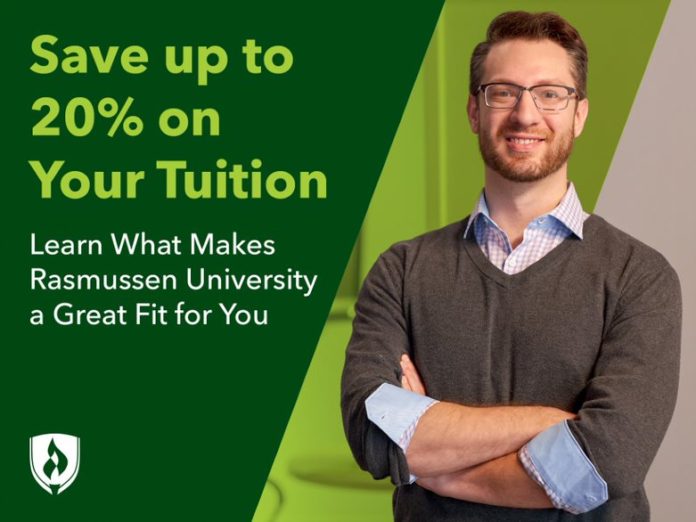 You're hardworking and eager to move forward on your goals. If you're looking to complete or advance your education while working, USPS and Rasmussen University have teamed up to help make that goal easier. Saving up to 20% on your tuition1 is a great start, but that's not all Rasmussen University can provide.
At Rasmussen University, we're dedicated to your success and will guide you every step of the way. Read on to learn what makes Rasmussen University an appealing option—and get started saving on tuition today!
8 Facts Every USPS Employee Should Know About Rasmussen University
You can save up to 20% on your tuition.
Eligible employees can save up to 20% on tuition through the Rasmussen University Corporate Grant.1 In addition, the Start Strong Tuition Savings can save you up to an additional $6,000 on tuition and fees.2
Do you have any family members with career goals? They may also qualify to save on their Rasmussen University education.3
Master's degrees are available for under $10,000.
There's never been a better time to earn your online Master's degree than at a cost of under $10,000.4 Choose from five Master's programs: Business Administration, Human Resources Management, Nursing, Healthcare Administration or Public Health.4
Flexible online learning options help make education fit your life.
Earn your degree on your schedule—many of our programs are fully online, which gives you the flexibility you need. With over 18 years of designing and teaching advanced online courses, we're online by design.
Flexible learning options, like credit for prior learning, self-directed assessments and competency-based education (CBE), all provide ways to make your education achievable while you work.
Rasmussen University offers over 50+ career-focused programs.
Rasmussen University offers a wide variety of programs across seven schools of study, with a breadth of credential offerings, including Diplomas, Certificates and Associate's, Bachelor's, Master's and Doctoral degrees. Our ladder approach to education means you receive each credential as you earn it, helping you finish faster.
The curriculum is developed by industry experts and taught by instructors with invaluable professional experience. Many programs also prepare you for industry certifications.
You'll be supported with every step.
When you enroll at Rasmussen University, you're not embarking on this journey alone. You're joined by student advisors to assist in a variety of areas, virtual access to librarians, over 400,000 e-books and materials, 24/7 technical support, and mentors, tutors and faculty dedicated to your goals.
Programs develop transferable skills for every work situation.
Every program incorporates sought-after soft skills for the workplace: critical thinking, communication, digital fluency, information literacy, diversity and teamwork, and ethics and professional responsibility.
Rasmussen University holds regional accreditation.
You can be confident in your education. Rasmussen University is accredited by the Higher Learning Commission (hlcommission.org), a regional accreditation agency recognized by the U.S. Department of Education.5
Rasmussen University provides a century of innovative education.
For over 120 years, Rasmussen University has provided higher education options for working adults with goals to go further in the ever-changing job landscape. Our mission is to help students advance their education with student-centered programs, receive lifelong support and become well-rounded professionals.
Take charge of your education. Request more information.
With everything you get done in a day at work and at home—we know you have what it takes to advance your education. And we're here to help you from enrollment, coursework, graduation and beyond.
Get your questions answered, and take your next step with confidence at Rasmussen University.
1In order to qualify for the grant, all admission requirements must be completed, and enrolling students must provide proof of employment. Students cannot receive both corporate and military grants.
2Visit rasmussen.edu/corporate for full terms and conditions. The savings claims referenced here represent the total amount of tuition and fees saved by successfully completing Flex Choice Credit by Assessment attempts at no charge, in lieu of completing the faculty-led equivalent courses at standard tuition and fee rates (i.e. "up to $6,000" is based on five successful assessments replacing five four-credit-hour courses at $260/credit hour). $5,200 in tuition, plus $875 Course Technology and Resource Fees, plus $150 book fees = $6,225. If three assessments are completed at no charge, add $198 in cost for the remaining two for total savings of $6,027.The Start Strong Tuition Savings is available to students who enroll through the Corporate Channel. All other students pay $99 for each Flex Choice Credit by Assessment attempt.
3Immediate family members of corporate alliance employees are eligible to receive this grant. This includes spouses, qualified domestic partners, children and stepchildren. In order to qualify, family members must complete the form.
4Tuition for MBA, MHRM, MHA and MSN programs is $155 per credit ($125 per credit for MPH). Students in all programs must maintain continuous enrollment to remain eligible for the tuition pricing of $155/$125 per credit. A student who withdraws and re-enrolls will be required to pay the tuition price offered at the time of their re-enrollment. Students who receive the tuition price of $155/$125 per credit cannot use any additional discounts, grants and/or scholarships. If a student needs to retake one or more courses in the degree program, the total cost of the program will exceed $10,000. Program cost breakdown: $7,440 in tuition + $2,460 in fees = $9,900 in program cost ($7,000 in tuition + $2,870 in fees = $9,870 in program cost for MPH). Program availability varies by campus and state; please see the Rasmussen University Catalog for details.
5Accreditation by the Higher Learning Commission hlcommission.org | 800-621-7440 | Rasmussen University is accredited by the Higher Learning Commission, a regional accreditation agency recognized by the U.S. Department of Education.