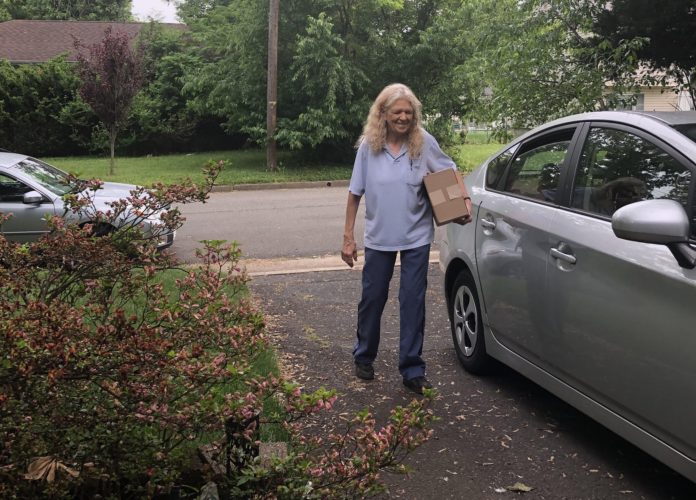 Donna Rumelhart:
A Postal Tribute (Special Delivery)
by
David Mele and Khalid Mahgoub
1973 was a year of significant milestones. The Paris Peace accords were signed beginning the end of the Vietnam War, president Richard Nixon started his turbulent second term, "American Graffiti" premiered in theatres, the Supreme Court ruled on Roe v. Wade, gasoline was 40 cents a gallon, and the price of a postage stamp was 8 cents. 1973 also marked a lesser-known milestone. It was the year a thin, fresh-faced, young woman named Donna Rumelhart walked into the Piscataway, NJ Post Office (which was located in South Plainfield at the time), and began her 48-year journey as a letter carrier for the United States Postal Service.
Letter carriers move through both time and community becoming anticipated fixtures of a town's daily life delivering mail that is by turns expected, surprising, and, sometimes, unwanted. Donna Rumelhart, like all letter carriers, bore witness to the ebbs and flows of life in Piscataway, NJ, sharing in the joy when customers on her route welcomed new children and consoling those whose family members had passed on. In her many years and many routes Donna greeted new residents and bid a fond farewell to those who moved away. However, through all of the years, through all of the changes, there was one constant: Donna Rumelhart who, indeed, braved ice and sleet, rain and snow, angry dogs and intractable management, to complete her appointed rounds. So many customers over the years were recipients of her efforts, and in a very significant way Donna was a part of every diploma received, every birthday card unsealed, every gift box embraced, and, of course, every bill opened.
To put the length of her career in perspective: through the years Donna delivered approximately 23 miles of letters and flats (postal parlance for magazine-sized mail), and over a million parcels. Between the old postal Jeeps and the current, box-like Grumman LLVs, Donna drove over 50,000 miles (enough to drive around the earth twice!), and probably walked over 20,000 miles. Fascinating numbers, and a shining example of an unwavering commitment to the values of work and service — doing all that with unconditional love for her coworkers and customers alike.
Just as every card that is opened is eventually closed, a career that begins is one that will someday end. 2021 is now the year of a very significant milestone; it is the year Donna Rumelhart hangs up her postal uniform and says goodbye to the place she called her second home for 48 years. As the curtain closes on her journey, realize that Donna's dedication and devotion has ultimately earned her the status of an icon.
For representing The United States Postal Service and tirelessly serving the residents of Piscataway, NJ for half a century, all who know Donna Rumelhart personally and professionally convey their best wishes on her retirement as she says "farewell" to one stage of her life and "hello" to the next.
We thank you for your effort.
We appreciate your service.
We will never forget your kindness.
We love you, Donna.
Congratulations
(Donna Rumelhart is retiring on Wednesday, June 2nd, 2021 after a remarkable 48 years as a carrier in New Jersey. Fellow letter carriers David Mele and Khalid Mahgoub penned the above tribute letter in honor of Donna's retirement.)