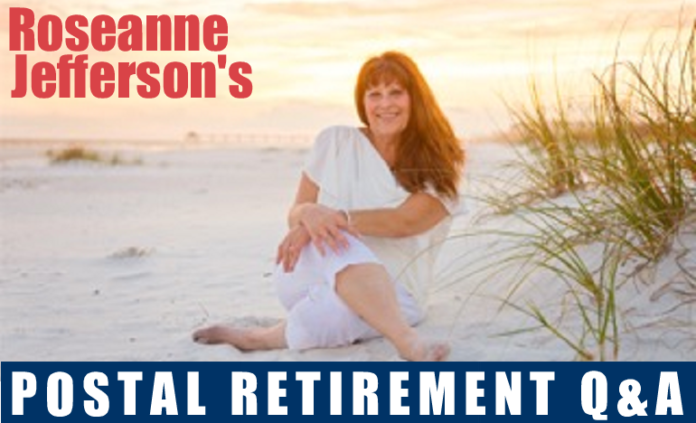 Roseanne is a retired USPS employee with an extensive background in USPS retirement, disability retirement, OWCP, EEO, Labor Relations and HR. She conducts individual and group counseling and is able to comprehensively discuss the pros and cons of employees who are on OWCP, disability retirement and regular retirement. Roseanne will be happy to answer your postal retirement questions. Contact Roseanne at roseanne.jefferson@icloud.com.
Good Day Postal Employees!!!
I want to express my deepest appreciation for all of the well wishes and prayers you have shared in my behalf, for improved health during this crisis of cancer in my life. I am taking it one day at a time, and for now, it looks like I will still be here to answer your questions and help guide you through the difficult times of getting answers you need for a successful retirement.
I will not get into politics or even postal politics, but there have been so many "WTF" changes to our organization. You all have jumped through hoops to make changes, that sometimes had to take effect in mere weeks..AND DURING A PANDEMIC. Could there ever be a worse time to make some sweeping changes, that defy the laws of logic, and postal procedures. Many of you have written me…..for answers, for guidance, to bitch, and some mourn the decline of the postal service…our "home" agency…….I AIN'T EVEN COMMENTING….YOU ALL KNOW WHAT IT IS !!!!
The Postal Service is an amazing organization…I believe it's going to take a whole lot more to take us down!!
Please be aware that this is Open Season for Health Benefits for employees and retirees. This FEHB listing of plans to select from has grown from last year. There are more to choose from and if you feel that you need to re-evaluate your health coverage, this is the time to do it.
The Federal Benefits Open Season ends at 11:59pm Eastern Time on Monday December 14, 2020 for the Federal Employees Dental and Vision Insurance Program (FEDVIP) and the Federal Flexible Spending Account Program (FSAFEDS). Open Season for the Federal Employees Health Benefits Program (FEHB) ends at 11:59pm, in the location of your electronic enrollment system, on Monday December 14, 2020.
As active postal employees, you can go on-line to fill that out, but if you are a retiree, you will have to fill out a paper form, SF 2809 "Employee's Health Benefit Registration Form". The action code for a change during "open season is 1B.
Q 1. Hi Roseanne, Thanks for what you do, even through the tough times you're going through. If you have time to answer this email, great, if not, I understand. My eligible date to retire is on a Monday April 26, 2021. What date do you recommend is the best date to retire, do you recommend the following Friday, April 30th ? Thank you for your time. Hope the best for you. BA
A 1. Hi BA, I recommend that you MOST DEFINITELY MAKE YOUR LAST DAY 04/30. It's not like the 26th is a Friday or even the end of a PP …it's a Monday? So make your last day the actual end of the month, it just makes sense. Roseanne
Q 2. Roseanne! I Feel like I know you, I love reading your columns! I'm a carrier on the West Coast, so the weather elements are no where like my co workers across the nation. Anyways, that being said, my background is IT, and my previous government agency, the goal was to eliminate everyone in 2010, aged 50 or older.
It was increasingly hard to find anything for next few years that was a federal career position with health benefits. They SAY they don't age discriminate… but I felt it!
So, at the age of 54 I got a job at the post office, I felt lucky and still do. When I started, and currently, I have a "blocked box" mounted route, with lots of apartments. So, basically I'm in and out all day! I have two questions, first, can you advise me in any difference between leaving with 5 years or leaving with 10? Other than the "hit" my body would take?
These blocked boxes are taking a toll on me. Hips & knees, not so much now, but they are reminding me I should leave this route. I only have 2 years, so why change I ask myself. Other than putting more into retirement, and having more years, I don't know that doing more years would be much different. But, that would really be 2024 as I started as a regular in Nov 2014.
Second question, how can I calculate my net pension with taxes and insurance deducted? I did go online for an annuity as Lite Blue has the printout, I'm just not sure my calculations are right. I'm ready to leave in 2022, as I will do IT on the side, because, yes, I know this net pension amount isn't much,…if any. Hope you have time for my question, Respectfully TL
A 2. Hi TL, I can – but the amount time effort that would go into writing this email…..is too much. Since you are on the west coast, send me your phone number and time zone, and then I can adjust the time I call you. YOU WOULD NEED TO HAVE in front of you MINIMALLY is your pay stub…it would be nice if you had that "personal statement of benefits" that you get every year….but I can assist with a pay stub…because yea I am THAT GOOD !!
Q2a. I await your availability. I have a photo of paystub paint on 9/18/20. I also made photo on My personal statement for year 2029. I have no problem sending them to you if you prefer…Put as technology goes I haven't kept up with all the gadgetry out there. So I would just be sending a picture to you. Let me know if that's acceptable and I will be happy to do whatever I can.
FA2. Hi TL, I am a bit confused as to why you have would have to do all that. Sending me a photo? Your pay stub; the photo for personal statement, which has to be the "Personal Statement of Benefits for 2019", which by the way is NOT part of what is necessary for a retirement session.
So I went back and re read all the emails that we had corresponded about your case, as well as the "SUBJECT LINE". Just your subject line that reads 62 and 5 years, says to me, does she realize she is eligible to retire now?? And really you do, at least, need me to explain, that which is confusing to you. Because if you became a regular carrier, and I would assume you mean "career" in November 2014, then in November 2019, if you are 62 you are eligible to retire.
That is what I said to myself. So maybe the words you are using "personal statement" really means annuity estimate. Because if you are 62 with 5 (or more) years of credible service, then what is needed is an annuity estimate. It sounds like you don't have that either and perhaps you have not ordered it from HRSSC, because you didn't understand what to do to find out this information on retirement. That is the most accurate financial information (other than your pay stub) that I use to create the retirement package. Even if you did not want to retire this soon (age 62 w/5 years) I will be able to project a bit for you if you are looking to say work until 65. But I can't do a quick down and dirty projection without 2 things….your actual paystub…..and the annuity estimate. And if you get the annuity estimate, you will have gotten the answer to the question(s) you are asking me. Roseanne
Q 3. Hi Roseanne, I got your name off of retirement FB account. Hoping you can confirm a question in regards to EAS and VER. As you may be aware, we are awaiting word of a VER offer to EAS. I'm being told that one can retire with less than 30 years in, as long as you met the MRA. If so, is the Special Supplement calculated differently?, Thanks Much MM.
A 3. Hi MM, The Special Supplement will be calculated by OPM, and is on the actual NARCES Annuity Estimate (versus a FERS Benefits Estimate Report). When you see what is on the annuity estimate, keep in mind it must be an annuity estimate that says EARLY OUT. That figure at the bottom of the annuity estimate provides the yearly and monthly amount of the Special Supplement. The Special Supplement would NOT start until you are age 56 or 57 which ever is your MRA..(under VER rules/regs).
Hopefully you are aware that the MRA is dependent upon your DOB. This information is if you retire under the age of 56. If you need information about what an early out requires you can go to opm.gov and they will give you the information online.
Q 3A. Thanks Roseanne…..just clarifying. So….two scenarios:
1. 32 years service 55 years of age, VER is offered but can't take it because has not reached MRA.
2. 22 years service 57 years of age, VER is offered and will be eligible for it along with the supplement. In case you are wondering, I'm scenario one. 🙁
Wow….so surprised this is even a question….I am copying the rules of VERA because once you see them your question is answered.
Early Retirement
The early retirement benefit is available in certain involuntary separation cases and in cases of voluntary separations during a major reorganization or reduction in force. To be eligible, you must meet the following requirements:
Eligibility Information
Age 50 – 20 Years of Service
Any Age – 25 Years of Service
In both cases as you can see age is now not the issue….so that kills question #1 ..YES eligible for the early out…and it also covers question # 2. Roseanne
Q 4. Hi Roseanne, I am a FERS career rural carrier with 20 yrs of service. About 4 of those yrs were served as a sub. When we discuss" length of service" for retirement or abeyance of annuity payments etc, what do we really mean?
1. Is it used the same way across the board by e.g. OP,M, SSA and VERA whenever length of service in Fed gov is cited?
2. What is" lost time" that is listed in RCR relating to LWOP used Intermittently for college attendance and how does it affect retirement? Thank you MW
A 4. Hi MW, I guess when I first read this and you say you're a rural carrier of 20 years with about four of those years as a sub (RCA/RCR/TRC). When we discuss the length of service what do we really mean ? What we really mean is when you became a Regular Rural carrier … better stated, when you can bid. So not a RCA, or RCR. TRC, TE or Casual. Those periods of non-career time will not count towards the years of service that are used to calculate your retirement. If you only have 20 years of career federal service, you are not eligible to buy back prior non-career time " unless rules change". Lost time has more to do with military time…and all federal time – even military, especially military should be reflected on the RCR report. Leave without pay used intermittently will not affect retirement in the long run.
SOCIAL SECURITY is ALL OF YOUR "EVER" WORKED EMPLOYMENT.
FERS is your federal "pension"
TSP is your third part of your retirement, which is a 401K, by any other name.
You cite so many words..abeyance; OPM; SSA; VERA; lost time; LWOP…all postal/federal words for sure.
Abeyance: Clearly a Labor Relations term for "holding" disciplinary action
OPM – Office of Personnel Management
SSA- Social Security Administration
VERA – Voluntary Early Retirement Authority
Lost time- military time (typically)
LWOP – Leave Without Pay
RCR (report) I think you mean RTR…which is the report "Retirement/Thrift/RIF, a computer program that ensures the proper calculation of credible time towards retirement.
I would have to have a conversation with you to reinvent the wheel…almost. A variety of words that have some connection to each other. But it sounds like you are just throwing "words" at me. I say that because..if you only have 20 credible years..all of those words are just…that… words. It's too hard to believe w/20 credible years, all of those scenarios can be you. For your questions to be answered it would be best for you to call HRSSC and request an annuity estimate based on a particular month and year that you want to retire. All of that information you're seeking will be on that annuity estimate. Then at that point you will be able to see what it looks like from the perspective of a monthly payment; a reduction for Health Benefits and if married, a potential for a spousal annuity. It may sound complicated, but if you call HRSSC and request an annuity estimate, I think most of your questions will be answered on that report. Roseanne
Q 5. I have a couple of questions if you wouldn't mind answering me please. I'm planning on resigning and doing a deferred retirement. I've already been out three weeks. I can no longer do this job to keep my sanity. Do you know what all i need to do exactly. I will still receive my pension right…just not until 62/85? Sending prayers your way. Thank you, P.
A 5. Hi P- This is clearly not enough information for me to give you any decent answer. How old are you? How many years do you have in federal service? Do you have any military time? Are you married? Do you have any OWCP claims?
Have you done it already? It appears that you've made up your mind if you have been gone for 3 weeks (although you did not say if you were on "leave"). I would encourage you to go to opm.gov and read all information relative to deferred retirement. Just so you have a real understanding of what type of retirement that truly means, and what you GIVE UP, by choosing that type of retirement. Roseanne
Q 6. Hi Roseanne, I am 47 years old. I started my career 1993 went regular status 1996. No military time. I'm thinking I will just submit my resignation next week then get in touch with opm. I guess I can still get my pension at 62 or 65. SL
A 7. Hi SL, Yes you are correct you can do that and you will be able to collect your FERS pension payment when you reach age 62. You will have to contact OPM yourself and fill out the paperwork but yes you are entitled to that, provided YOU DON'T TAKE YOUR MONEY OUT OF THE RETIREMENT FUND!!! Roseanne
Q 8. Hi Mrs Jefferson my name is BJ- I am currently on light duty for the processing plant. I was a 204b but I took it upon myself to step down because I was involved in an on the job accident where both of my feet were fractured. I was given your name by (Mrs. BR) concerning me contact you to inquire as to what options would be good for me. Additionally I am having trouble with OWCP and compensation. I called into work, and because of how much pain I was in (and my boss knew that). But my OWCP case worker said "your doctor has to be notified of you not coming to work". Is it possible you could email me back or give me a call as to what steps I could take to benefit me and my career.
A 8. HI BJ, You did not give me enough information to really try to inform you as to what is your best path to take. Your age and the number years of credible service play into this. If you are not able to do your job, regardless if it's an on the job injury or NOT, you still have the option to file for disability retirement. I don't know if that is the path, that you were looking for and that is why someone sent you in my direction???? I think that if this is a medical situation in which you will never really recover enough to do the job that you were hired for….then most definitely you should begin the process of filing for disability retirement. The number is 866-476-5563, or 1-877-477-3273 This is a long long process…..begin now! Roseanne
Have a safe and Merry Christmas & a Happy New Year…I think all of us are happy to see 2020 leave…..
Until we speak again……..Roseanne